Bank of Nova Scotia CEO Brian Porter to retire in January
[ad_1]

Porter will be replaced by Finning International Inc. chief executive Scott Thomson on Feb. 1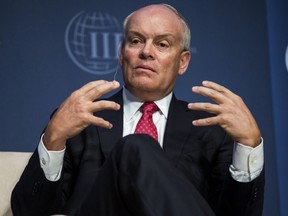 Article content
Brian Porter, who helped navigate the Bank of Nova Scotia through the financial crisis as chief risk officer, and then overhauled the bank's Latin America operations and leapt into digital innovation as CEO, is stepping down at the end of January after nine years in the top job.
Article content
His replacement, Scott Thomson, comes from outside Scotia's executive team, a rare transition in Canada's tight-knit banking world.
Article content
Thomson, chief executive of equipment dealer Finning International Inc. has been a member of Scotia's board since 2016. He will initially transition into management of Canada's third-largest bank by becoming president, effective Dec. 1, with responsibility for the bank's business lines: Canadian banking, global banking and markets, global wealth management and international banking.
After Thomson takes over as CEO, Porter will become a strategic adviser, remaining in that role from Feb. 1, 2023 to April 30, 2023 "to support the transition," the bank said.
Prior to leading Finning, Thomson was chief financial officer of Talisman Energy Inc. Earlier in his career, he worked at Bell Canada Enterprises and Goldman Sachs.
Article content
In a statement, Porter said he has always considered banking to be a calling and that working at 190-year-old Scotia was "the honour of my lifetime." He said he is confident that Thomson will guide the bank through its next phase of its growth and development because he is "a results-driven and proven leader" whose values are aligned with those of the bank.
"I have every confidence he will lead the Bank exceedingly well," Porter said.
Aaron Regent, chair of the Scotia's board, praised Porter as a forward-looking leader who had made "bold, strategic decisions that have repositioned the bank" while presiding over assets that grew to $1.3 trillion from $744 billion.
"He refocused the bank's geographic and business priorities and redeployed capital into businesses with greater growth opportunities, while exiting non-core markets," Regent said, noting that the global wealth management business has more than doubled in size and now ranks number two by assets in the Canadian retail mutual fund industry.
Article content
International banking, meanwhile, is now focused on fewer, larger markets that offer higher growth potential.
Thomson, who will retire Nov. 15 from Finning, the largest dealer of Caterpillar equipment and engines in the Americas and Europe, is a "seasoned CEO" whose skills include familiarity with the international market, talent development and digital transformation, said Regent, adding that he has a proven track record of effective capital allocation and strategic investments.
"He successfully led large organizations in challenging and complex macroeconomic environments, including providing tremendous leadership at Finning throughout the COVID-19 pandemic," Regent said.
"As a board member of Scotiabank since 2016, Scott has a comprehensive understanding of the Bank's strategy, operations, management team, risk appetite, culture and drivers of growth."
Article content
As CEO, Scott is committed to accelerating the bank's customer focus, digital capabilities and ESG priorities, Regent said.
Thomson praised Porter for his "long-term vision and strategic investments in people, processes, technology and products," which will continue to benefit the bank for many years.
"I am incredibly honoured and energized to be joining and leading the bank's world-class leadership team," Thomson said in the statement.
"During my six years on Scotiabank's board, I have had the opportunity to see first-hand the incredible potential of this organization, and the dedication and skill of its people."
• Email: bshecter@postmedia.com | Twitter: BatPost


[ad_2]

Source link