Battery company Umicore announces $1.5-billion investment in Ontario
Battery supply chain plant near Kingston, Ont., getting significant government financial support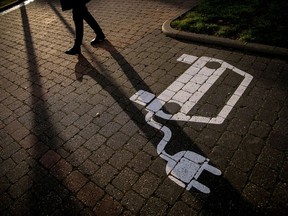 Article content
Belgium-based Umicore SA on Wednesday announced plans to build a $1.5-billion battery supply chain plant near Kingston, Ont., powered entirely by renewable energy, with significant financial support from the federal and provincial governments.
Article content
The plant would produce battery precursor active material and battery cathode active material, filling in missing pieces and adding a new eastern terminus to Ontario's emerging battery supply chain, which already includes a battery cell manufacturing plant.
Umicore, which specializes in chemicals and materials, said both the federal government and Ontario provided financial support, but did not offer any details. In the past, both levels of government have said that publicizing details would compromise ongoing and future negotiations with other battery and electric vehicle manufacturers. Nonetheless, based on leaks and other statements by public officials, support for such a project could be expected to consist of hundreds of millions of dollars in forgivable loans.
Article content
Such financial support has been justified as a necessary step to ensure the vitality of Canada's auto industry, the country's second-largest export, but also the overall health of the economy: Batteries are poised to become the most valuable sub-component in vehicles as the internal combustion engine is phased out over the next 15 years and replaced by zero-emission — and most likely electrified — transportation. They are also critical to a broad range of motorized technologies.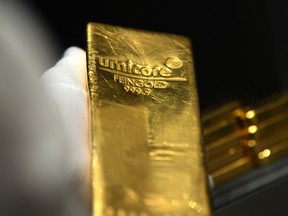 "We are most grateful to the Canadian and Ontario governments for their support and for their readiness to co-fund this planned project," Mathias Miedreich, chief executive of Umicore, said at a press conference at Queen's University announcing the project, attended by Prime Minister Justin Trudeau.
Article content
"The facility will help Canada and Umicore in their shared objective of achieving a carbon-neutral battery supply chain," he added, noting it will be powered by renewable energy.
At the press conference, François-Philippe Champagne, Minister of Innovation, Science and Industry, said he had been talking to Miedreich since January, seeking to convince him to build out its North American operations in Canada.
Umicore, the largest producer of cathode material outside of Asia, said construction on the plant would begin in 2023 and target first production in late 2025.
Cathode active material, sometimes called CAM, is where positive charges flow out of a battery, and can account for as much as 50 per cent of its value.
Article content
The announcement comes after the European materials company BASF SE and, subsequently, General Motors Co. in partnership with the South Korean chemicals company Posco, each announced $500-million cathode manufacturing plants in the industrial city of Becancour, Que., which has a port on the St. Lawrence River.
Umicore's investment adds similar capability in Ontario, and includes the country's first industrial-scale precursor material manufacturing plant, in which raw materials such as cobalt, lithium and nickel are converted into chemical forms suitable for use in batteries.
The plant will encompass nearly 350 acres in Loyalist Township and is expected to create several hundred jobs. Once fully operational, it is expected to produce enough cathode material for one million vehicles.
Article content
Vic Fedeli, Ontario's Minister of Economic Development, Job Creation and Trade, called it an "important investment" in a "high-value segment of the EV supply chain."
In March, the European automaker Stellantis N.V. and South Korean battery company LG Energy Solution announced the country's first battery cell manufacturing plant in Windsor, Ont., the historical centre of Canada's auto sector, located just across the river from Detroit. Estimated to cost $5 billion, it is expected to create 2,500 jobs.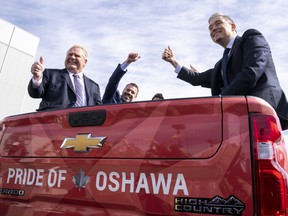 That built on other automakers' plans to convert one or more of their auto plants in Canada to build electric vehicles. In 2020, Ontario and the federal government each agreed to contribute $295 million, or $590 million in total support to Ford Motor Company's planned $1.8-billion electric vehicle assembly plant in Oakville, Ont.
Article content
In 2021, GM said it would invest $1 billion in facilities in Ingersoll, Ont., to produce its BrightDrop light-duty electric commercial delivery vehicles.
More recently, both Stellantis and GM have announced investments in auto plants in Ontario in Brampton and Oshawa, while Toyota Motor Corp. and Honda Motor Co. Ltd. have also pledged investments in their auto supply chains in the province.
In recent years, the federal and Ontario governments have each disclosed at least $1.3 billion in spending to encourage automakers to build facilities there.
Although neither government disclosed its spending on the the Stellantis and LG Energy $5-billion battery-cell plant in Windsor, in a subsequently deleted tweet, Liberal member of Parliament Julie Dabrusin of Toronto said that the federal government would contribute $500 million; and Ontario Premier Doug Ford had said at a press conference that government support will reach into "the hundreds of millions of dollars."
Article content
A more powerful battery absolutely changes the way the auto industry designs and positions products

Flavio Volpe
The latest announcement that Umicore is building its plant near Kingston brings Canada's auto sector further east than it had historically been, with a new 400-kilometre corridor now stretching all the way from Windsor.
While batteries are often likened to a type of replacement of the internal combustion engine, the technology at the centre of transportation for the past century, industry insiders say it is not a perfect comparison.
They point out as that as the batteries powering vehicles grow ever stronger, it allows for ever-greater computing power and more powerful software. That partially explains why many major automakers are developing autonomous, self-driving vehicles at the same time that they roll out electric vehicles.
Article content
"A more powerful battery absolutely changes the way the (auto) industry designs and positions products," said Flavio Volpe, chief executive officer of Automotive Parts Manufacturers' Association. "It changes what the core competencies for competitive jurisdictions are."
Volpe explained that automakers may be more interested in investing in areas with a vibrant software and information technology sector as electric vehicles emerge, whereas in the past proximity to steel manufacturing may have been paramount.
"The next generation looks at transportation more as a tech component, that is either making their life easier or harder," said Volpe.
Champagne and Miedreich said a big topic of their conversation revolved around Canada's talent pool, with Miedreich saying it came down to the workforce's "technological savviness."
Champagne said there would be more announcements about the electrified transportation supply chain in the future, calling it "phase one."
"As one CEO said to me recently, Canada is on a roll," he said.
• Email: [email protected] | Twitter: GabeFriedz