Black Rock Coffee Bar Reinforces its Partnership with JoyRx | Children's Cancer Association to Bring Joy to Kids with Cancer
[ad_1]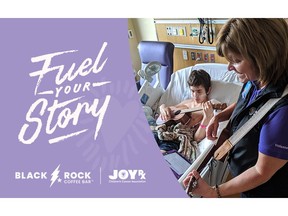 Article content
Black Rock Coffee Bar unites around the delivery of JoyRx programming to create joy for seriously ill kids by hosting a national "Give Back Day" on February 3rd
Article content
Portland, OR, Jan. 31, 2023 (GLOBE NEWSWIRE) — For a fourth year, Black Rock Coffee Bar, a national boutique coffee chain, is partnering with JoyRx, the mission delivery of Children's Cancer Association, to help bring joy to kids and teens around the United States who are facing pediatric cancer or other serious illness. 
Article content
On February 3, 2023, Black Rock Coffee Bar is holding a "Give Back Day" at more than 100 of its stores across the U.S. to benefit the nonprofit's JoyRx Music program, which draws on the universal power of music to create transformational moments for kids and teens in treatment. All day on February 3rd, Black Rock Coffee Bar will contribute 100% of the sales from its purple-themed drink — the Blue Raspberry & Strawberry Fuel®. This delicious beverage was created exclusively by Black Rock Coffee Bar to align with JoyRx's passion for purple. For convenience, customers can also choose to donate through a QR code at point of purchase or directly at the window or cash register at each Black Rock location. 
Article content
"It was an easy decision to continue to support Children's Cancer Association and its JoyRx Music program," said Jeff Hernandez, Co-Founder and Exec. Chairman of Black Rock Coffee Bar. "Our partnership with this great organization is a purposeful experience for every single barista in each of our Black Rock Coffee Bar stores. It falls in line with our mission to serve our communities with positivity, grace and meaning."
Proceeds from the sales of the $3.00 Blue Raspberry & Strawberry Fuel drinks will help fund the JoyRx Music program, which is always free for families and provided by trained JoyRx Music specialists. Each in-person or digital-live session engages hospitalized kids and teens of all ages and diagnoses to choose the music medicine experience that best fits their needs. Both modes of delivery empower children with the option to watch a live music session, request a song, sing along, or engage in music lessons with instruments from the JoyRx music cart.
Article content
"Black Rock Coffee Bar is a top national partner for us in helping transform the pediatric healthcare experience for children and teens across the nation," said Danielle York, CEO of JoyRx | Children's Cancer Association. "With Black Rock's continued support, we've been able to expand our JoyRx Music offering to 32 pediatric healthcare facilities spanning the U.S., providing nearly 100,000 joyful music interactions to over 21,000 children last year. Thanks to Black Rock's partnership, we will be able to increase the number of kids, teens, and families we serve throughout the country." 
Visit www.JoyRx.org/BlackRock to participate in Black Rock's Give Back Day initiative. 
About Black Rock Coffee Bar
Black Rock Coffee Bar is a national boutique coffee shop that is known for its premium-roasted coffees, teas, smoothies, and flavorful blended energy drinks. Founded as a family-owned and operated business in Oregon in 2008, Black Rock Coffee Bar has grown to more than 100 retail locations in seven states. The Black Rock culture prides itself on not only being a positive force for the communities it serves, but also for the team members that fuel their locations day in and day out. An important aspect of their team mission is to recognize those that go above and beyond by displaying the 4G's of Black Rock — grit, growth, gratitude and grace. For more information, visit https://br.coffee/
Article content
About JoyRx
JoyRx, the mission delivery of Children's Cancer Association, envisions a human-centered healthcare environment where JoyRx lives withing the standard of pediatric care. Since 1995, JoyRx has been transforming the pediatric healthcare experience by delivering customized, no-cost, Joy-based programs to kids and teens to improve their emotional health, elevate mood, and increase resiliency. JoyRx Music, JoyRx Mentorship, and JoyRx Nature programs empower seriously ill youth to positively shift their emotional state during the stressful and painful experiences related to fighting life-threatening illness and extended hospitalizations. See JoyRx in action at JoyRx.org.
Attachment

[ad_2]

Source link