BMO to raise $3.15 billion in share offering after OSFI hikes buffer
[ad_1]

BMO will issue 11,805,000 common shares at a price of $118.60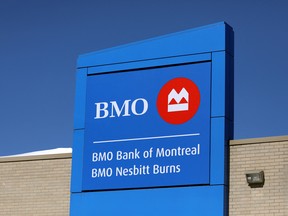 Article content
The Bank of Montreal is raising $3.15 billion in an offering of common shares that includes both a public offering and private placement after Canada's federal banking regulator raised a key risk buffer last week.
Article content
BMO announced Monday that it will issue 11,805,000 common shares at a price of $118.60 for total gross proceeds of approximately $1.4 billion as part of the public offering.
Article content
A concurrent private placement will see the bank issue 14,755,477 common shares at the same price to a number of major institutional investors, including the Caisse de dépôt et placement du Québec, CPP Investments and the Alberta Investment Management Corporation.
Last week, the Office of the Superintendent of Financial Institutions raised the capital buffer that financial institutions must hold to three per cent from 2.5 per cent, citing increased risked from high household indebtedness and the rapid rise in interest rates. It also extended the potential range of the buffer to between zero and four per cent, from a prior range of zero to 2.5 per cent.
Article content
"This new level reflects our observations and high levels of systemic vulnerabilities have persisted and, in some cases, increased in recent quarters," OSFI assistant superintendent Angie Radiskovic said during a Dec. 8 press conference.
At the time, National Bank of Canada analyst Gabriel Dechaine calculated that OSFI's move would bring the regulatory minimum CET 1 ratio up from the current rate of 10.5 per cent to 11 per cent as of February, or up to a maximum of 12 per cent, given the new wider range.
Dechaine noted that BMO was the only large bank that would find itself short of the mark, due to its pending US$16.3 billion deal to acquire Bank of the West.
Article content
"BMO's capital position suddenly looks a lot weaker," Dechaine wrote in his Dec. 8 note.
Monday, BMO acknowledged the issuance was a response to the regulatory change.
"The Bank intends to use the net proceeds from the public offering and the concurrent private placement to align the Bank's capital position with increased regulatory requirements and for general corporate purposes," it said in a news release. "As of February 1, 2023, the Bank expects to target a Common Equity Tier 1 ratio at or above 11.5 per cent."
The public offering and majority of the private placement are expected to close on Dec. 16, BMO said.
— With additional reporting from Stephanie Hughes
[ad_2]

Source link