Canada job vacancies climb to record, signalling inflation pressure
There were 1,005,700 positions unfilled at the beginning of May — 42% higher than a year ago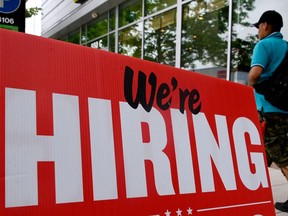 Article content
Job vacancies, an economic indicator that Bank of Canada governor Tiff Macklem is watching closely, climbed to a record in May, as employers struggled to fill jobs in the heated up labour market.
Article content
Statistics Canada reported July 28 that there were 1,005,700 positions unfilled at the beginning of May, up slightly from 1,001,100 in April, the previous record. The May number was 42 per cent higher than a year earlier.
Vacancies are an important sign of what the Bank of Canada calls "excess demand," as the inability of companies to hire enough people to keep up with orders suggests the economy is unable to supply all the goods and services consumers and companies are seeking to buy. The mismatch is one of the factors driving inflation to its fastest in four decades, prompting Macklem to raise the benchmark interest rate by a full percentage point earlier this month.
Statistics Canada said the job vacancy rate remained at 5.8 per cent for a second consecutive month, compared to the unemployment rate in May of 5.1 per cent. This 1:1 unemployment-to-job-vacancy ratio is down from last year's 2:4.