Canadian pension giants join forces to capitalize on private credit
[ad_1]

AIMCo and the Public Sector Pension Investment Board announce joint venture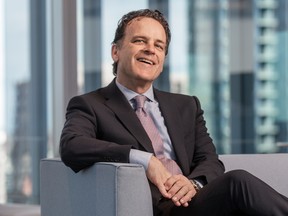 Article content
Two of Canada's largest pension organizations, Alberta Investment Management Corporation and the Public Sector Pension Investment Board, are joining forces to source potentially larger loan investment opportunities and expand their credit portfolios.
Article content
The joint venture was announced Jan. 9, the same day AIMCo recruited David Scudellari — a levered finance and capital markets veteran — from PSP Investments to lead the Alberta pension and endowment manager's international investment activities.
Article content
During his seven-year stint at PSP Investments, where he was global head of credit investments and private equity and a member of the executive committee, Scudellari was credited with opening a New York office and building a global credit business with net assets under management of $21.9 billion.
At AIMCo, Scudellari will have additional duties, serving as vice-chair of the investment committee and overseeing investment functions including international expansion, credit and private debt, and management of key external relationships.
Article content
Evan Siddall, who became AIMCo's chief executive 18 months ago, said private credit is a relatively low risk, high return asset class and a market segment where his organization has prioritized growth, notably with the latest hire.
He said Scudellari "built a leading credit investment business at PSP" and his addition will be "hugely beneficial to AIMCo," which is plotting global expansion as well as focusing on leadership development and succession planning.
Siddall said the collaboration with PSP Investments demonstrates the collective scale and international breadth of the two pension organizations. PSP brings a larger footprint and more established track record in private credit and will source the deals, while AIMCo will contribute matching funds to give both access to larger investment opportunities.
Article content
"It's the intensity and the scale of their business relative to ours that we can just learn from … and, with our scale, they can benefit from having our clients interested in that space too," said Siddall. "So it's kind of a win win."
This is a mutually beneficial endeavour

Evan Siddall, chief executive, AIMCo
He has hinted in the past that partnerships and collaboration will be crucial for the Alberta pension and endowment organization, with $136.6 billion under management at the end of June, to fully participate globally in areas including energy transition and carbon reduction.
"It is absolutely part of our strategy," Siddall said, adding that the joint venture with PSP Investments demonstrates the power of collaboration among members of the Maple 8, a term applied to a handful of the country's largest diversified pension plans that includes the Canada Pension Plan Investment Board, the Caisse de dépôt et placements du Québec, and the Ontario Teachers Pension Plan Investment Board.
Article content
"This is a mutually beneficial endeavour," Siddall said.
PSP Investments launched its credit investment practice in November 2015, and has $21.9 billion in net assets under management from offices in New York, London and Montreal. Its focus has been on non-investment grade credit investments in North America and Europe across private and public markets, as well as rescue financing opportunities.
AIMCo, which has private credit teams in Edmonton, Toronto and London, started investing in private credit in 2010, and manages $6.1 billion. It has committed $12.5 billion of capital since inception.
Deborah K. Orida, chief executive of PSP Investments, described the credit investment market as "fast-moving" and said the pension organization's 40-strong team of credit investment professionals is excited to continue sourcing opportunities on their well-established platform.
Article content
"That platform has delivered double-digit returns in a historically low-rate environment since inception, so we think we're starting from a great place," said Orida, who became PSP's CEO in September.
"This joint venture, or partnership, is an opportunity for us to align with a like-minded, long-term investor in Canada to have our combined funds increase our market presence."
With the departure of Scudellari, who sources say was in contention for the CEO job that was ultimately won by Orida, PSP Investments has promoted Oliver Duff to global head of credit investments, and Simon Marc to global head of private equity and strategic partnerships, both reporting to Orida.
PSP Investments had $230.5 billion in net assets under management as at March 31, 2022, and aims to reach $300 billion.
• Email: bshecter@nationalpost.com | Twitter: BatPost


[ad_2]

Source link