CNRL sets new emissions target, pledges to boost shareholder returns
Canadian Natural pledged to reduce greenhouse gas emissions by 40% from 2020 levels by 2035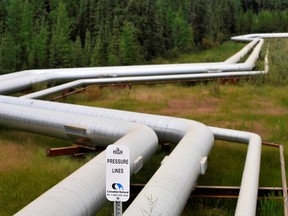 Article content
Canadian Natural Resources Ltd. pledged to reduce greenhouse gas emissions by 40 per cent from 2020 levels by 2035, a new and relatively ambitious target aimed at convincing investors and regulators that the oilsands major is taking climate change seriously.
Article content
President Tim McKay paired the new emissions target with a carrot for shareholders: the Calgary-based company pledged to return 80 to 100 per cent of free cash flow to shareholders once it reaches net debt of $8 billion, a milestone that CNRL could reach as soon as the end of next year.  
Article content
The latter announcement means Canadian Natural has joined peers Cenovus Energy Inc., MEG Energy Corp. and Suncor Energy Inc. in promising to allocate 100 per cent of free cash flow to shareholders based on the achievement of debt targets, continuing a trend which is expected to enrich investors and executives while curbing investment in upstream production and potentially slowing promised investment in emissions abatement projects.
Article content
McKay boasted Nov. 30 that the company is the largest owner of carbon capture capacity in Canada, and argued that the Canadian oilsands "should be an investment priority" when it comes to environmental, social and governance (ESG) issues.
"Canada is a top-rated ESG country among top crude exporting nations," McKay said at gathering of the company's investors in Toronto. "It has world class (carbon capture, utilitzation and storage) infrastructure — of which Canadian Natural is a significant owner — Canada and Canadian producers can be a safe, affordable, reliable (and) responsible supplier to the world."
Canadian producers have been working to counteract the sector's track record for producing some of the most carbon intensive crude in the world. A consortium of oilsands companies that includes Canadian Natural, known as the Pathways Alliance, has pledged to spend more than $24 billion on decarbonization projects in a bid to reach net zero by 2050.
Article content
While the sector has welcomed Ottawa's previously announced investment tax credit for 50 per cent of capital expenses for carbon capture projects, it has pushed for further assurances around carbon pricing and a response to generous new U.S. tax credits, which are expected to cover nearly two-thirds of a project's total capital and operating costs.
None of the Pathways companies, including Canadian Natural, have made a final decision to invest in a $16.5-billion carbon capture and storage hub and pipeline proposed for northern Alberta — a project that is viewed as key to meeting the sector's climate ambitions.
Article content
Ottawa has hinted that more incentives to decarbonize could come in next year's budget in response to the deluge in green spending announced in the U.S. Inflation Reduction Act.
CNRL's new climate target was met with skepticism from analysts and industry watchers who were incredulous about the sector's previous emissions targets, though some expressed hope that government incentives and regulatory policies anticipated in the 2023 federal budget could make emissions targets more achievable.
"Pathways previously established a 32 per cent absolute reduction by 2030 (vs. 2019), which many (including ourselves) view as somewhat aggressive given slower-than-expected progression of discussions with the federal/provincial governments," Menno Hulshof of TD Securities Inc. wrote in research note. "We believe the announcement of additional incentives in the April 2023 federal budget could get targeted timelines back on track."
Article content
Scott MacDougall, with clean energy think-tank the Pembina Institute, praised the company's progress on reducing methane emissions but said the sector is deploying its record profits on payouts to shareholders rather than on major decarbonization projects.
"They can and should be investing in their own future in the energy transition and there's a lot of signs that they're not," MacDougall said in an interview. "I think that's too bad. It would be great to see them investing in not just being cost competitive, but also carbon competitive — because we think they're going to need to compete on both fronts."
CNRL also announced a $5.2-billion capital program for 2023, including $1 billion set aside for strategic growth. The company is targeting a four per cent year-over-year increase in production based on a mid-point production target of 1,330,000 to 1,374,000  barrels of oil equivalent per day.
• Email: mpotkins@postmedia.com | Twitter: mpotkins