Cocktails from turn of the century are comforting blasts from the past
[ad_1]

Fresh, fruity vodka-based drinks are taking people back to better times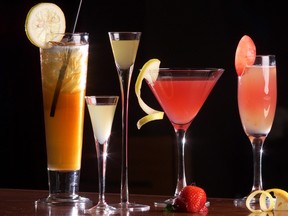 Article content
By David Lee
Fashion seems to be borrowing trends from the 1990s, television shows and movies are reviving that decade's top shows and cocktail bars seem to be following along. Drinks such as espresso martinis and cosmopolitans have been surging in popularity over the past year or so and bartenders say they will continue to be popular as consumers seek comforts from when times were better.
Article content
If you're not familiar with cocktails from the 1990s, The Difford's Guide says the era is defined by fresh, fruity vodka-based drinks, especially if it's served in a V-shaped martini glass. It's also the era that kicked off the current wave of cocktail popularity. "Their fun and sometimes wacky nature makes us think of times when we were younger," says Madeleine MacDonald, an instructor at the Southern Alberta Institute of Technology's School of Hospitality in Calgary.
These cocktails might even take us back to iconic pop-culture offerings such as Sex and the City, which co-starred the cosmo (vodka, Cointreau and cranberry juice), and The Big Lebowski, which featured the white Russian (vodka, coffee liqueur and cream). Although it might have come out in 1988, Cocktail starring Tom Cruise also had a huge influence on both cocktail and mainstream culture.
Article content
"Everyone's enjoying things from that time whether they were alive at that time or not," says Josh Lindley, lead bartender at Eataly's Trattoria Milano in Toronto and co-creator of Bartender Atlas, an online community of bartenders and cocktail lovers. "I think that everything from the '90s has become cool again and that was a decade when people were celebrating more often and were used to going out more."
It's not only life returning to normal after two-plus years of pandemic restrictions that has people going out again. The 2000s had a dramatic recession that put a damper on excess, something that lingered long after the economy ticked back up. Lindley also says "a lot of people who have spent the past two decades focusing on kids and careers finally have the time to go out again and are just ordering what they remember." MacDonald agrees. "People are looking to step outside of their usual go-to drinks. They want to switch it up and spark more joy in their lives and often nostalgia is the best way of evoking this feeling."
Article content
But '90s cocktails haven't remained stagnant in their revival, with bartenders trying to rework and put a more modern take on older recipes, MacDonald says. They're trying to refine the over-the-top nature of the cocktails in the '90s, since modern cocktail fans embrace balance and craft in their drinks.
Certainly, a lot of innovation has happened in cocktails in the past 30 years and current bartenders have also moved onto modern classics such as the paper plane, featuring bourbon, or Sazerac, a cognac or whisky-based cocktail. "Generally, I think of drinks from the 1910s and the 2010s as better than anything that came out in the '90s," Lindley says. "I hope that people, by nature, are willing to let go of the same old, same old things they are comfortable with and trust that present-day bartenders might have insights as to what makes a proper drink that they will love."
But the pull of nostalgia is really powerful as our current obsession with everything '80s and '90s shows. "The '90s cocktails have always had some sense of belonging as inspiration for cocktail lists for me personally." MacDonald says. "This genre of drinks has always been around and will continue to be whether that is as an undertone or a continued obsession." FPM
[ad_2]

Source link