CP Rail hires thousands as it awaits regulatory go-ahead for KCS merger
[ad_1]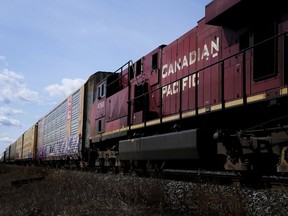 Article content
CALGARY — Canadian Pacific Railway Ltd. is on a hiring spree as it awaits regulatory go-ahead for its acquisition of Kansas City Southern.
Article content
In a conference call to discuss fourth-quarter financial results, CP's CEO Keith Creel said the Calgary-headquartered railway is in growth mode as it awaits a decision by the U.S. Surface Transportation Board.
Article content
The ruling, expected sometime this quarter, is the final hurdle CP must clear in its bid to purchase KCS for US$31 billion — a deal which would create the only single-line railroad linking the United States, Mexico and Canada.
In anticipation of a positive ruling and the growth opportunities that will result from the merger, Creel said CP started hiring in large numbers last spring.
"In spite of a historically tight labour market in '22, it was a record year of hiring at CP," Creel said. "We added more than 1,600 conductors over the course of last year, and we made some significant progress with our labour agreements."
Article content
During the course of 2022, CP's total workforce swelled to 13,000, an increase of seven per cent year-over-year.
"That was certainly a significant expense in 2022, and it will be a significant expense this year as we prepare for growth," said chief financial officer Nadeem Velani on the call.
"Assuming a positive response from the STB, the synergies that we one day will realize will take some people. So we're hiring a few thousand at a time, and we're spending cap-ex at record levels on our property and KCS on their properties."
CP's deal closed in December 2021, but the shares of KCS were placed into a voting trust that allows the U.S. railway to operate independently while the STB completes its review.
Mexican regulators have already given their approval to the deal.
Article content
CP has said its acquisition of KCS will enable significant growth for its rail customers, and allow for 60,000 truckloads annually to be shifted off public highways.
In addition to hiring, CP said it has also been working to ensure labour stability in advance of a finalized merger. CP recently announced a new tentative collective agreement with Unifor, the union that represents the railway's mechanical employees in Canada, and has also reached an agreement with the union that represents the conductors for KCS in Kansas and Missouri.
All of the activity comes against the backdrop of an uncertain economic environment. On Tuesday, CP Rail said it earned $1.27 billion in the fourth quarter of 2022, compared with $532 million in the same period of 2021.
Article content
The diluted profit worked out to $1.36 per share, compared with 74 cents per share in the prior year's quarter.
Revenues were $2.46 billion, a 21 per cent increase from the same period in 2021, in spite of weather challenges in the fourth quarter and an outage at the Elkview mine that negatively affected coal shipments.
CP has declined to issue forward guidance for 2023, given the pending merger decision and the potential for macro-economic headwinds such as a possible recession. The company said instead, it will provide guidance at an investor day later this year.
"We're not going to get too far over our skis and try to predict what that's going to look like," said John Brooks, the railroad's head of marketing.
During the fourth quarter, CP Rail said its adjusted operating ratio, a key metric of railroad efficiency where a smaller number is better, increased 160 basis points to 59.1 per cent.
For the full year 2022, CP Rail's adjusted operating ratio increased by 380 basis points to 61.4 per cent.
Creel said on the call that the company's operating ratio performance in 2022 was not "CP standard" and that he sees opportunity to improve that figure in the year ahead.
This report by The Canadian Press was first published Jan. 31, 2023.
Companies in this story: (TSX:CP)
[ad_2]

Source link