Dollarama Inc beats sales expectations as inflation soars
Stock price jumps as budget retailer fares better than bigger rivals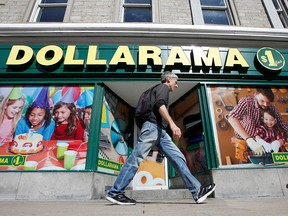 Article content
Dollarama Inc. shares climbed Wednesday after the retailer reported slightly better-than-expected sales in the first quarter due to easing COVID-19 restrictions and high inflation driving stronger demand for affordable goods.
Article content
The stock price increased 3.3 per cent from a close of $69.81 on Tuesday to $72.14 as of 12:06 p.m.
The Montreal-based firm reported Wednesday that sales grew more than 12 per cent to $1.07 billion in the first quarter ended May 1. Analysts had been expecting sales of just over $1.03 billion.
Diluted net earnings-per-share grew 32.4 per cent to 49 cents from 37 cents a year earlier.
"Our strong performance across key metrics in the first quarter reflects the relevance of our business model and positive consumer response to our value proposition in a high-inflation environment," Neil Rossy, president and CEO, said in a statement.
The broad retail sector and economic influences
The discount retailer has fared better than some of its larger competitors, such as Walmart, as inflation drives consumers to seek out lower prices. The consumer price index rose 6.8 per cent in April compared to a year ago with food and shelter costs rising the most.
Article content
Dollarama has also had to contend with higher input costs and in the last quarter announced it would start selling some items at a new, higher price point of $5, compared to $4. Rossy re-emphasized this point at the annual shareholders meeting, saying the increase "has long been the natural next step" in the company's "multi-price-point strategy."
"The objective in the near term is to bring additional flexibility to manage cost pressures in a heightened and inflationary environment," Rossy told shareholders. Increasing price points to $5 would also allow Dollarama to add newer products they couldn't offer at lower price tags.
Shipping delays have become a pain point within the retail sector and Dollarama hasn't been immune. Some products have been in transit for six to eight weeks. To combat delays, the company has invested in a 500,000-square-foot warehouse in Laval, Que., to house inventory and has already begun pre-ordering seasonal items ahead of the holidays.
Article content
Financials
Earnings before interest, taxes, depreciation and amortization increased nearly 28 per cent of sales from $248 million to $300 million in the first quarter. Dollarama's gross margin was 42.1 per cent of sales, down slightly from 42.3 per cent of sales, due to shoppers buying more food items, which have lower margins. But margins were partially offset by lower logistics costs. The company also noted higher traffic in store but reduced sizes of purchases, a reflection of a return to normal buying patterns.
Comparable store sales, a metric used for existing stores not newly opened, increased 7.3 per cent due to double-digit traffic growth. Dollarama opened up 10 new stores in the first quarter as part of its strategy to open 2,000 new stores by 2031. In the fiscal 2022 year, it opened 65 new stores, and recently opened a location in the Yukon and Northwest Territories.
Share buybacks and higher dividends
Dollarama repurchased about 1.4 million shares during the quarter for $107 million. During the shareholders meeting, Rossy said the buybacks go towards paying stockholders dividends. The company also increased its dividend from $0.0503 to $0.0553 per common share.
• Email: bbharti@postmedia.com | Twitter: biancabharti