Grocers gird to fight move to include compostable bags in plastics ban
[ad_1]

'We did the right thing. We can't be included'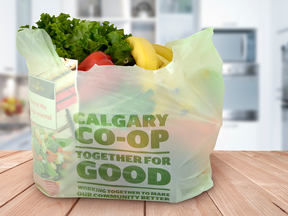 Article content
Calgary Co-Operative Association Ltd.'s executives weren't all that concerned this spring when the federal government revealed its plan to ban shopping bags and other single-use plastics. The grocery chain — which runs dozens of supermarkets, liquor stores, cannabis shops and gas bars — had already swapped plastic shopping bags for compostable ones a few years earlier.
Article content
"We didn't for a second actually believe there was any impact to our bags," chief executive Ken Keelor said. "It was about plastic, and this is not plastic."
Article content
But the official regulations, published in June in the Canada Gazette, say there isn't enough evidence that plant-based "compostable" plastic alternatives will fully break down in nature. As a result, Calgary Co-op's bags and others like them will be treated in the "same manner as their conventional plastic counterparts," according to the government. In other words, they're forbidden as of the end of next year.
"We were going, 'No way. That can't be,'" Keelor said. "We were all looking at each other, going, 'We did the right thing. We can't be included.'"
A call to the federal Environment and Climate Change department confirmed his fears.
Article content
"We were kind of told, 'Look, you know, the final decision has been made,'" Keelor recalled.
Nevertheless, the grocery industry is gearing up for a push to change the government's mind.
The Canadian Federation of Independent Grocers (CFIG) has opted to back Calgary Co-op in its fight, warning a ban on compostable bags could impact grocers across the country.
"I have to imagine there's going to be hundreds and hundreds of businesses across Canada that are going to be in the same position as Calgary Co-op, but just aren't aware of this," CFIG's senior vice-president Gary Sands said. "We hope more businesses will become aware of this and support what we're saying."
Sands, who has also met with government officials on the issue, said it didn't make sense that public consultations on the rules were held from October to December 2020. The government also held further consultations in late 2021.
Article content
"They did this consultation during COVID," he said. "The last thing (grocers) had on their mind was plastic bags. It was surviving."
The government, however, said it's not going to budge.
"The Government of Canada has no current plans to reopen consultations on the existing regulations," Cecelia Parsons, an Environment and Climate Change Canada spokesperson said in an email on Thursday.
She said compostable plastics can end up in recycling facilities and contaminate real plastics, and they're also often screened out of composting facilities, because they take longer to degrade than food or yard waste.
"And they have not proven to perform better than conventional plastics when littered on land or in water," she said.
Article content
But Calgary Co-op said its bags are an example of a company and a municipal waste system coming together to get around those challenges. The company boasts it has avoided using more than 100 million plastic bags since switching to compostable ones in 2020.
Rob Morphew, the company's director of health, safety and environment, said he worked with the city to make sure the bags stayed out of recycling facilities. The trick, he said, is that Co-op made sure the bags fit as liners in the compost bins the city hands out for residents to use in their kitchens.
"If they were ending up in the recycling facility, we would know about it because it doesn't work," he said.
The City of Calgary tested the Co-op bags at its municipal composting facility and found they successfully break down, spokesperson Jaime Stopa said in an email.
Article content
The federal government's ban will put an end to all manufacturing of plastic shopping bags for domestic sale by the end of the year. Stores must stop using them by December 2023, and manufacturers have to stop making them for export by the end of 2025.
The manufacturer that supplies Calgary Co-op will lose roughly half its sales due to the ban, according to Jerry Gao, chief executive and founder of Calgary-based Leaf Environmental Products Inc.
"It's in the millions for sure," he said.
Gao said banning compostable bags will also chill innovation in Canada, which could become a leader in manufacturing compostable plastics because they are often made using starch from corn — a crop grown in abundance here.
"This is bad news," he said.
Article content
But an engineering professor who studies these materials said allowing compostable plastics could backfire, especially without strong public education campaigns to explain how best to dispose of them.
Mohini Sain, a mechanical industrial engineering professor who leads the Centre for Biocomposites and Biomaterials Processing at the University of Toronto, said a bag advertised as biodegradable or compostable doesn't mean it will easily break down in a landfill.
"It might biodegrade, but over a longer term, not immediately," he said, adding that composting facilities use enzymes to break down the material. "You need a specific enzyme, a bug, to eat it. And that bug might not be in the landfill."
Sain also questioned why the government is applying a blanket ban on compostable plastics. If the concern is whether a material is totally compostable, there's a "well-agreed" standard test — created by the American Society for Testing and Materials — to definitely say one way or another.
"There's a very clear pathway," he said.
• Email: jedmiston@postmedia.com | Twitter: jakeedmiston


[ad_2]

Source link