Hydro-Quebec CEO's exit may be more about philosophy than politics
[ad_1]

Popular chief-executive's abrupt departure is perhaps not as surprising as energy sector watchers think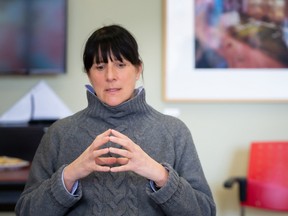 Article content
People often make plans, map out strategies and scribble down wish lists about all the things they wish they could do, and would do, if they could just find the time to go and do them.
Article content
Sophie Brochu knew what she was doing in December 2019 when to the surprise of many energy-sector observers the wildly popular and undeniably successful chief executive of Energir, Quebec's largest natural gas distributor, activated her wish list and left her job after 12 years to take a "sabbatical" of indeterminate length.
Article content
Brochu planned to travel and study philosophy in Paris. She wanted to speak the language of "Socrates," as she told the Financial Post in May 2022, and bounce between France and Montreal, where she also wanted to teach some "engineers" about the energy business at a local university. And after two years away, well, she would see about what came next.
What came instead, just a few months into Brochu's much-desired me-time, was a global pandemic and an offer to become chief executive of Hydro-Quebec. Brochu had turned down the position once before, but she wasn't going to turn away from it in a time of crisis.
Article content
"I felt the only place I could help with my people, here in Quebec, was with what I know — and what I know is energy," Brochu told the Financial Post two years after taking the job in April 2020.  "It wasn't planned at all, but I plunged in, and I don't know how long the ride is going to last for."
The ride ended Jan. 10, when — and raise your hand if you have heard this one before — to the surprise of energy sector watchers, the wildly popular and undeniably successful chief executive of Hydro-Québec, whose employees know her as "Sophie," announced she would be leaving the job in April, three-years into a five-year term.
Hydro-Québec is a sacred cow among provincial Crown corporations. Not only does the company provide Quebecers with the cheapest residential power rates anywhere in Canada by a significant margin, but it also employs more than 20,000 people there and pumps several billion dollars in revenue annually into the government's coffers, a healthy chunk of which is derived from exporting power to the United States. As chief executive, Brochu isn't just another big wig with a fancy job, but among the most powerful energy executives in all of North America.
Article content
News of her impending departure with two years left in her mandate had pundits and power players alike casting about for plausible explanations, because what kind of boss would walk away from a job at the top of the energy industry heap that pays her $600,000-plus annually before they had to?
Brochu said in a Hydro-Québec statement that the utility was in a "strong position," and it was time to "pass the torch." Later pressed for a more fulsome explanation by French-language media, she said she wasn't leaving for another job, or because of her health, or to seek political office.
Article content
With those three scenarios ruled out, surely then it was the simmering tensions between Brochu and Quebec's Coalition Avenir Québec government, with its stated ambition to woo industry to Quebec with its promise of cheap power, a sales pitch Brochu had balked against publicly? Nope, she said, tiffs between the government and the Crown entity are perfectly normal.
What is unusual is that Brochu is refreshingly unique among business leaders. In her formative years she didn't fancy going into business at all, but aspired to become an artist. When she isn't working she hangs out at her vacation home in the Eastern Townships, mucking about in her vegetable patch and socializing with friends, who tend toward more artsy types. Her husband, John Gallagher, is a television producer. They married 40 years ago. It was love at first sight.
Article content
Back in May, Brochu described her time at her country home as "unbeatable." She also made clear that her plan post Hydro-Québec would be to take up where she had left off with her sabbatical.
And maybe therein lies a good part of the explanation as to why the 59-year-old would choose to step down from Hydro-Québec early. Even if politics proves to have been in play, Brochu was never lacking for a plan B. She didn't need the job, but she accepted it anyway when she felt the job needed her. And perhaps now she feels the need to resume that conversation with Socrates, the one a pandemic interrupted.
With additional reporting from the Montreal Gazette
• Email: joconnor@nationalpost.com | Twitter: oconnorwrites


[ad_2]

Source link