Inflation driving union resurgence, but be careful what you wish for
[ad_1]

Labour unions can promise anything they want, knowing it is false, without legal consequence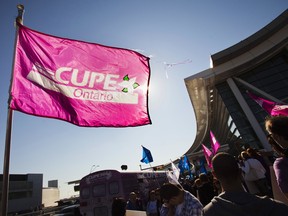 Article content
Private sector labour unions have had a tough go, seeing their numbers and bargaining power ravaged over the years. Only 13.8 per cent of workers were unionized in 2021, down from 19 per cent in 1997, according to Statistics Canada figures.
Article content
The public sector, where there is no market discipline and politicians, not wanting a strike on their watch, capitulate, writing cheques with taxpayer dollars, is a different story. Its unionization rate jumped from 69.5 to 74 per cent in the same period.
Article content
Partly because of the sectors they were concentrated in and partly because of the inefficiencies the collective agreements created, unionized workplaces have disproportionately gone out of business. Just think of steel, auto, farm implement manufacturing and more.
The unions have responded with large mergers in order to retain the numbers needed to remain viable.
So, one might think, are unions a spent force and must employers maintain their campaigns, and engage law firms, to prevent new certifications?
Article content
I am seeing unions gaining a new lease on life. Inflation, in particular, has been a major calling card. It is an easy sell to say to an employee, "Look, the cost of living has gone up 11 per cent while your wages only increased two per cent, so that you are effectively earning nine per cent less this year alone" — and then promise them the moon. The unions do not mention that their own collective agreements provided the same low increases and, in some cases, those two per cent annual increases are embedded for another two years to come.
Article content
The law is that unions are allowed to lie. They can promise anything they want, knowing it is false, without legal consequence. They can promise everyone a guaranteed 25 per cent annual increase, job security, co-management of the workplace, anything — whatever they believe will convince employees to sign union cards. And with those cards come certifications, providing unions the union dues, hence renewed life, that they rely upon to hire more organizers, run strikes, conduct arbitrations and give money to their favourite political causes.
Management cannot lie. If they, even implicitly, say things that imply a benefit if they do not sign a union card or vote for a union or suggest a possible threat if they do, they risk the prospect of that union being automatically certified in their workplace. So employers are handcuffed in responding to union campaigns. They actually have to hope that the union issues written propaganda because management can then, legally, rebut any inaccuracies.
Article content
In combatting unions, employers should understand that few employees organize for higher wages or job security. Those are only selling features to employees who are otherwise already dissatisfied. Employees sign union cards because they feel disempowered. They sign because of bad management. Management that plays favourites, is arbitrary or simply doesn't listen. And the only way they can get back at that management is to bring in their own champion.
That is why first-line supervision has always been the danger line, as well as potentially the strength line, of labour relations.
But employees should watch what they wish for. Rather than a union providing benefits to their members, the reverse is often true:
Article content
1. Job Security
The decrease in the unionized labour force has not come from decertifications but from layoffs. Unlike non-union employees, who can sue for wrongful dismissal, unionized employees cannot. In most cases, permanent layoffs will only result in payment under employment standards legislation, a small percentage of what the same employee would receive from a court in a wrongful dismissal case. Unionized employees cannot sue in court and can only grieve under the collective agreement. As well, unionized employees can be laid off at any time for lack of work. Non-union ones can as well, but they are entitled to damages for wrongful dismissal when that occurs.
What few employees understand is that the law of wrongful dismissal and constructive dismissal no longer apply when one unionizes. And they can't even hire a lawyer and sue but can only grieve through the collective agreement and are stuck with whoever the union hires to represent them.
Article content
2. Rights under the collective agreement
Although unionized employees titularly have the rights that the union has bargained for them, in reality they do not. Unions can decide which grievances to take to arbitration. Even if the collective agreement is clearly violated, a union can decide that the case for that employee is not worth the money to the overall membership that it would cost to take to arbitration. And if the union chooses to not take a wage, seniority or even a valid dismissal grievance forward, there is nothing the employee can do about it. They have a titular right to challenge the union's decision to the labour board, but the success rate of such applications is insignificant. That is because unions are deemed by the labour board to be amateur bodies who have the right to trade off one grievance against another and determine whether any particular case, however valid, is worth the membership's money to proceed with. Only if the action of the union is arbitrary, discriminatory or in bad faith will the labour board interfere. But if the union establishes that it put its mind to the case and did not act in a discriminatory or malicious manner toward a particular grievor, it will succeed.
Article content
3. Wages
Unions always promise higher wages but they are only able to obtain what the employer agrees to and, whatever the ultimate bargained wage is, employees start with an effective wage cut from having to pay union dues. There are also potential assessments from employees' wages by the union to support other strikes. And if the employee is on strike for even a couple of weeks, it will be virtually impossible to ever make up that money during the balance of the collective agreement, each week lost representing two per cent of annual wages.
If employees' rights are so limited and union wages are roughly equal to non-union, then why do employers so desperately wish to remain union free?
Since it is more difficult to discipline employees for poor performance or reward them for achievements, unionized employees are more difficult to motivate;
Because of rigid job classifications, it take more workers to do the same job;
Complex collective agreements make it more difficult to manage
Relations are worse as employers cannot manage directly but must go through the union in many areas; and
If there Is no union, there can be no strike.
Article content
And this is the major risk of unionization. Imagine that an employer is on strike and chooses or is unable to remain operating. Its suppliers must purchase products elsewhere. But a smart competitor will say to the customer, I will not supply you for only the duration of the strike, whether it be a week or a month but will insist on an exclusive supply contract for, say, three years and the customer, without their usual supplier operating, has no choice. When the strike is over, the employer may find that its customer base is largely lost That is a risk that is worth all the union prevention any employer can devise.
Howard Levitt is senior partner of Levitt Sheikh, employment and labour lawyers with offices in Toronto and Hamilton. He practices employment law in eight provinces. He is the author of six books including the Law of Dismissal in Canada.
[ad_2]

Source link