Intel's 13th Gen mobile processors include the first 24-core laptop CPU
[ad_1]

It's that time of the year; CES is about to start, but the exciting tech announcements come beforehand. One of the CES 2023 highlights is Intel's new 13th Gen series. The new line features the first 24-core CPU that will power laptops. Intel says the flagship mobile chip, the 55W Core i9-13980HX, is the world's fastest mobile processor." It'll be interesting to see how Apple will respond in a few months when the M2 Max and M2 Pro chips arrive.
The high-end Intel 13th Gen mobile chip will power gaming laptops and creators. But Intel has various other novelties in the 13th Gen series for different form factors, including slim notebooks and regular desktop PCs.
The 45W 13th Gen Intel Core H-series mobile chips feature the first 24-core processor for a laptop. That's up to 8 performance cores and 16 efficiency cores. The H-series goes up to 5.6GHz, the highest clock speed available for the laptop market. The chip will deliver 11% faster single-thread performance and 49% faster multitasking performance than the predecessor.
The chips can be paired with up to 128GB of memory. And manufacturers can opt for DDR5 (up to 5,600MHz) or DDR4 (up to 3,200MHz) RAM.
Connectivity options include Wi-Fi 6E, Bluetooth LE Audio, Bluetooth 5.2, and Thunderbolt 4 support (up to 40Gbps).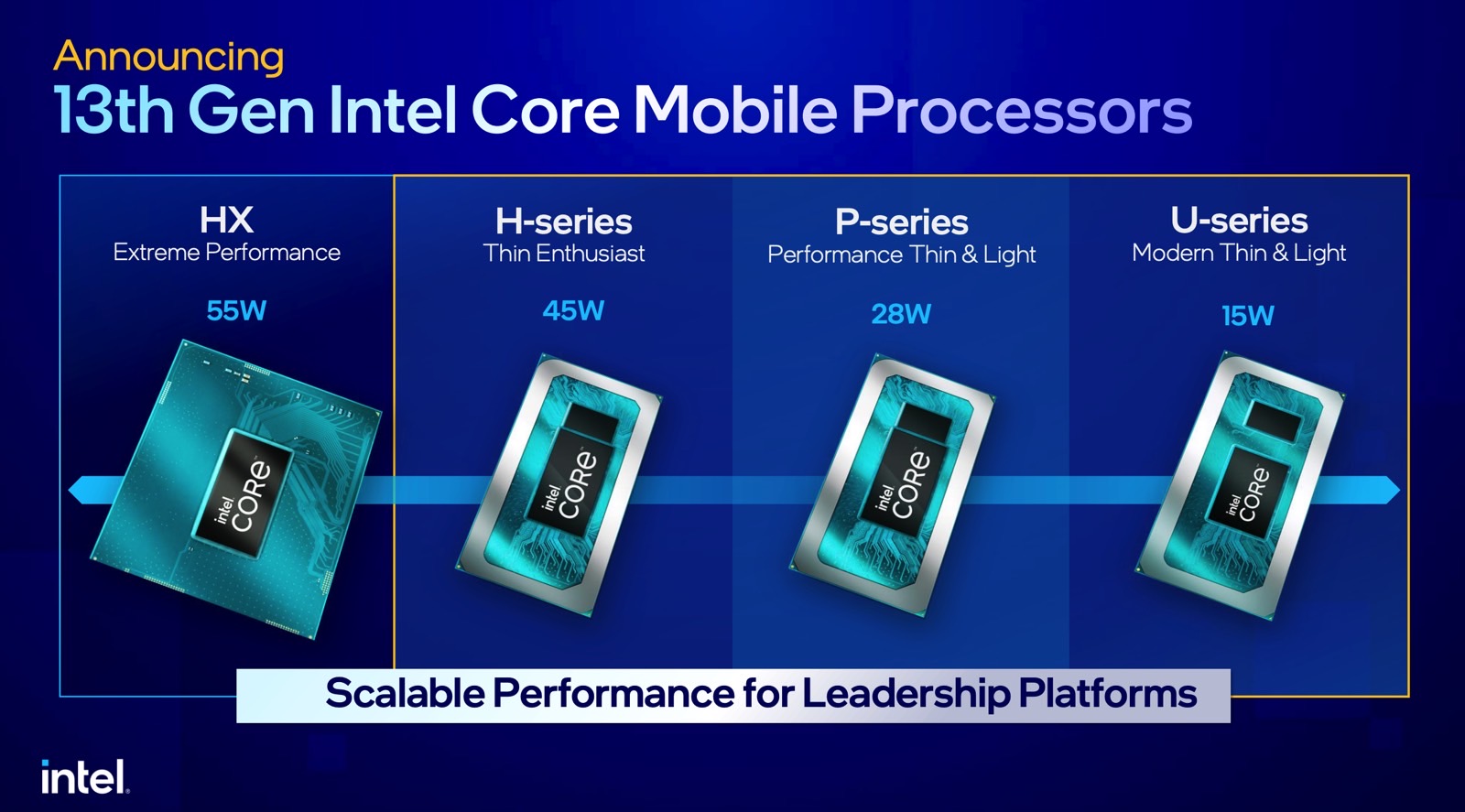 Intel says vendors will release five times as many HX-series laptop models running on the 13th Gen design as 12th Gen models. That's up to 60 different laptop models that will make the most of Intel's newest top-of-the-line chip series.
But the 13th Gen series also includes different chips for laptop designs targeting users who do not need as much power as gamers and professional Windows users. That's where the 13th Gen P-series (28W) and U-series (15W) mobile processors come in.
The chips will feature up to 14 cores, including 6 performance cores and 8 efficient cores. The chips are paired with Intel's new Iris X graphics card and DDR5 or DDR4 memory. The new chips are the first to support Intel's Movidius vision processing unit (VPU).
The P- and U-series also support Wi-Fi 6E and feature up to four Thunderbolt 4 ports.
Intel says that laptop manufacturers will create up to 300 unique designs with the help of the H-, P-, and U-series this year. Intel teases thin-and-light laptops, foldables, 2-in-1s, and other form factors from Acer, Asus, Dell, HP, Lenovo, MSI, Razer, Republic of Gamers, Samsung, and others.
Furthermore, Intel highlights the new Intel Evo designs featuring 13th Gen Intel Core processors. These notebooks will deliver "consistent responsiveness while unplugged, longer real-world battery life, instant wake and fast charge."
The Intel Evo chips will support Intel Connectivity Performance Suite and Intel Bluetooth LE Audio for "superior" videoconferencing. Intel Unison is another feature coming to Evo designs. That's support for text messages, phone calls, notifications, and file transfers between PC and Android or iPhone.
Finally, Intel's 13th Gen designs include new 35W and 65W chips for desktops and Intel N-series chips targeting education and entry-level computing.


[ad_2]

Source link