Jack Follman's Way-Too-Early All-Pac-12 Teams for 2023
[ad_1]

Posted on January 27, 2023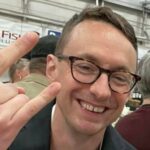 By Jack Follman, SuperWest Sports
We know which players are and aren't declaring for the Draft and a good portion of who is transferring in and out of the conference.
It's a good place and time to take a look ahead at how the All-Pac-12 teams might look going into the season in the Fall.
The advancement of NIL means we're going to see some of the strongest and deepest all-conferences teams in quite some time. Some positions are pretty loaded.
Just doing two teams, with one team explained since we are so far out from the season.
First Team Offense
QB Caleb Williams, Junior, USC – The defending Heisman winner edges out an insanely strong Pac-12 QB pool. He has one of the best shots to win back-to-back Heismans in a long time.
RB Damien Martinez, Sophomore, Oregon State – The next stud Beaver running back had nearly 1,000 yards and scored seven touchdowns as a true freshman. He had more than 100 yards in his last six Pac-12 games.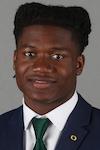 RB Bucky Irving, Junior, Oregon – Cracked the 1,000-yard mark with a massive Holiday Bowl. He's got the rare combination of home run speed and power to break through tackles—nearly seven yards per carry, eight touchdowns, and a good receiver.
WR Jalen McMillan, Junior, Washington – Nearly 80 catches, more than 1,000 yards, and nine touchdowns. The Pac-12's most-productive returning receiver.
WR Rome Odunze, Junior, Washington – Also insanely productive and dangerous in Kalen DeBoer's offense, he had more than 1,100 yards and scored eight total touchdowns in 2022.
TE Brant Kuithe, Senior, Utah – One of the best tight ends in Conference history is somehow back for another season. He could be the Pac-12's best non-QB offensive weapon if he's healthy.
OL Joshua Gray, Junior, Oregon State – He's racked up All-Pac-12 honors the past few seasons and is a huge part of why Oregon State has been so dominant on the ground. This could be the year he gets big-time national honors.
OL Troy Fautanu, Junior, Washington – he led a Washington line at left tackle that was unbelievable at protecting the QB in 2022 as just a sophomore. Athletic, versatile, and dominant.

OL Sataoa Laumea, Junior, Utah – He's already a two-time All-Pac-12 selection and arguably the best interior lineman in the Conference. He steps up now as the veteran on the Utes front.
OL Jonah Monheim, Junior, USC – He was quietly one of the best blockers in the Conference in 2022. He now takes center stage with Andrew Voorhess and Brett Neilon off to the NFL.
OL Roger Rosengarten, Sophomore, Washington – He protected Michael Penix' blind side as a freshman and I don't think he gave up a sack. He has the potential to be the best lineman in the Conference very soon.
First Team Defense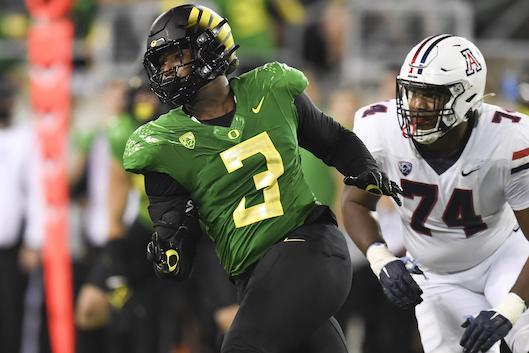 DL Bralen Trice, Junior, Washington – He led the nation in QB pressures in 2022. He also got home for 10 sacks on the season.

DL Laiatu Latu, Senior, UCLA – Returns as the conference's best sackmaster with 10.5 in 2022. He had a big Sun Bowl and held off the NFL Draft for another year.
DL Brandon Dorlus, Senior, Oregon – One of the best veterans in the conference and a multi-All-Conference guy. Getting him back up front for the Ducks for one more season was a huge score.
DL Junior Tafuna, Junior, Utah – Next in line as a big difference maker at DT for the Utes. Probably the best run-stuffer in the Pac-12.
LB Karene Reid, Junior, Utah – No question who the best linebacker coming back in the conference is to me. He could be the leader of another stellar Ute defense.
LB Shane Lee, Senior, USC – USC got a big break getting Lee back for another year. He's a solid veteran who should keep improving the Trojan defense.
LB Eric Gentry, Junior, USC – The ASU transfer is turning himself into one of the best linebackers in the Conference. He should be even better in 2023.

DB Kitan Oladapo, Senior, Oregon State – Easily the best DB returning to the conference. Oladapo takes over as the man in the Beaver secondary which was incredible in 2022.
DB Calen Bullock, Junior, USC – Earned All-Pac-12 honors and should follow them up with more in 2023. He could be the best player returning on USC's defense.
DB Jabbar Muhammad, Senior, Washington – He was Second-Team All-Big 12 last year and now heads to a shallow group of Pac-12 standout DBs. He could instantly become Washington's best DB.
DB Cole Bishop, Junior, Utah – He's been great his first two seasons and this feels like a year he could make a star turn. Don't be surprised if he's the best DB in the conference at the end of the season.
First Team Special Teams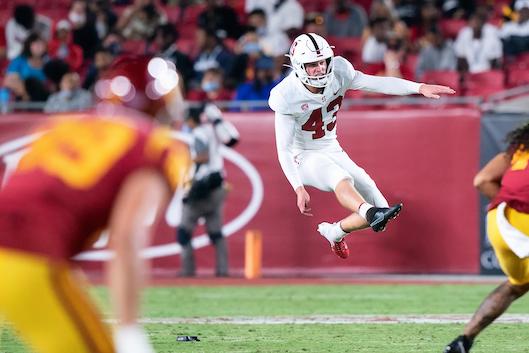 K Joshua Karty, Senior, Stanford – Went 18-18 on field goals last year including game-winners over Notre Dame and Arizona State.

P Eddie Czaplicki, Junior, Arizona State – Averaged 46 yards per punt last season.
R Anthony Gould, Junior, Oregon State – The leading punt returner coming back to the Pac-12 in 2023.
Second Team Offense
QB Michael Penix Jr., Senior, Washington
RB Jaydn Ott, Sophomore, Cal
RB Michael Wiley, Senior, Arizona
WR Dorian Singer, Junior, USC
WR Jacob Cowing, Senior, Arizona
TE Benjamin Yurosek, Senior, Stanford
OL Taliese Fuaga, Sophomore, Oregon State
OL Jake Levengood, Senior, Oregon State
OL Jordan Morgan, Senior, Arizona
OL Ajani Cornelius, Senior, Oregon
OL Jarrett Kingston, Senior, USC
Second Team Defense
DL James Rawls, Senior, Oregon State
DL Brennan Jackson, Senior, Washington State
DL Tuli Letuligasenoa, Senior, Washington
DL Ron Stone Jr., Senior, Washington State
LB Levani Damuni, Senior, Utah
LB Jackson Sirmon, Senior, Cal
LB Lander Barton, Sophomore, Utah
DB Evan Williams, Senior, Oregon
DB Jaden Hicks, Sophomore, Washington State
DB Asa Turner, Senior, Washington
DB Travis Hunter, Sophomore, Colorado
Second Team Special Teams
K Camden Lewis, Senior, Oregon
P Nick Haberer, Junior, Washington State
R Silas Bolden, Junior, Oregon State
---
—More from Jack Follman—
[ad_2]

Source link