Matt Wadleigh's 2022 SuperWest All-MWC Teams & Awards
[ad_1]

Posted on December 5, 2022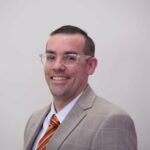 By Matt Wadleigh, SuperWest Sports
With the Mountain West Conference football regular season and Championship Game in the rearview mirror, it's time to evaluate performances and select our All-Conference teams.
Fresno State and Boise State certainly had their share of the top players, but players from several other programs stood out as well.
Here are my choices, two teams deep, along with annual awards for the Coach and Players of the Year.
Coach of the Year: Jeff Tedford, Fresno State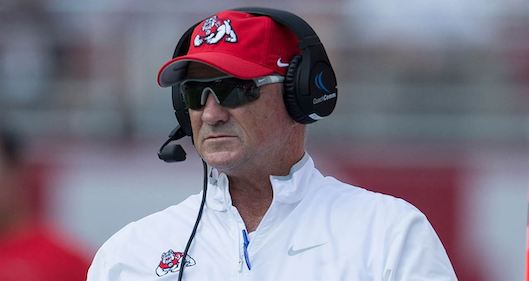 Jeff Tedford overcame health issues before coming out of retirement, only to be dealt the loss of star quarterback Jake Haener for several games in renewing his role as the head coach of the Bulldogs.
Faced with a 1-4 start, it would have been easy to write off the 2022 season as a lost cause, but Tedford found a way to hold things together, engineering an eight-win streak, to claim the Mountain West Championship.
Offensive Player of the Year: Brad Roberts, RB, Air Force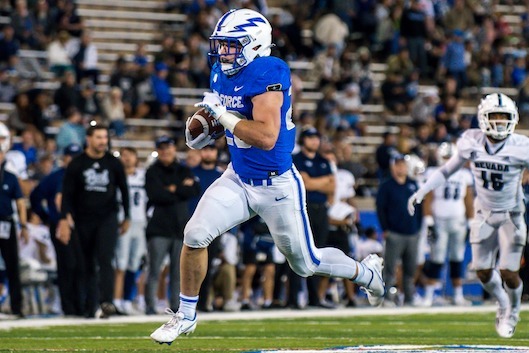 Roberts was an easy choice for this award, although it might have gone to Haener if the Fresno State QB didn't get injured.
Roberts had a monster year with 1,612 yards rushing, third in the nation, and was a one-man wrecking ball for the Falcons.
Defensive Player of the Year: David Perales, DE, Fresno State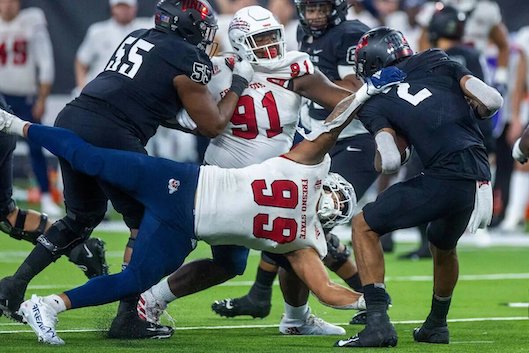 Looking at Perales' numbers compared to last year, he had fewer tackles.
In 2022, he finished with just 23 tackles and 14 assists, but he had 10.5 sacks with an interception.
More than that, he was an absolute force for the Bulldog defense and a huge reason why they finished 53rd in the nation in points against (20.83).
Offensive Freshman of the Year: Taylen Green, QB, Boise State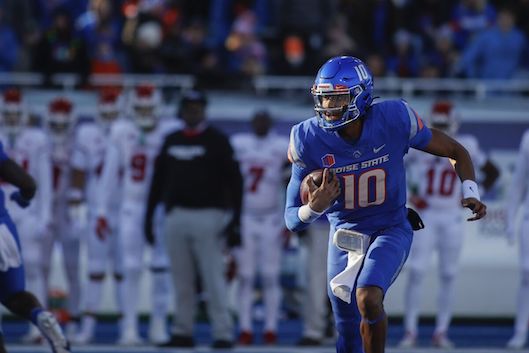 Green took over halfway through the year and answered the call perfectly for Andy Avalos.
He finished the regular season with 1,730 yards through the air and added 437 yards rushing with eight scores.
Defensive Freshman of the Year: A.J. Haulcy, DB, New Mexico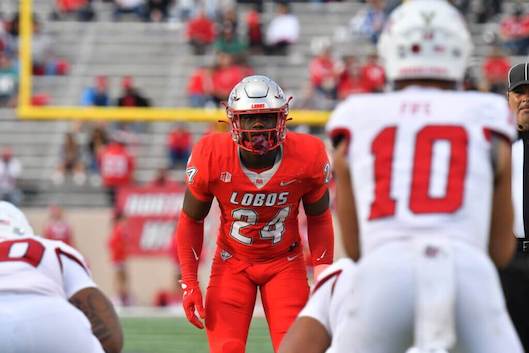 The Lobos had a disastrous season, but freshman A.J. Haulcy had 34 tackles and a pair of interceptions to win the Freshman Defensive Player of the Year Award.
First-Team Offense
QB: Jake Haener, Fresno State — This shouldn't be a surprise. Haener entered the year as the best QB in the MWC. He suffered an injury against USC and missed some time, but he responded in a massive way and engineered a terrific comeback to send the Bulldogs to the conference title game, where he continued to shine.
RB: Jordan Mims, Fresno State — Mims had been waiting patiently for Ronnie Rivers to leave so he can take over control of the backfield. Well, the time finally came, and Mims did what everybody expected. He ran for 1,078 yards with 14 touchdowns and should be headed to the NFL next year.
RB: Brad Roberts, Air Force — Roberts was extremely impressive for a run-heavy Air Force attack. He ended the year with 15 touchdowns and 1,612 yards (third in the nation) as the Falcons finished with nine wins.
WR: Elijah Cooks, San Jose State — Cooks finished the year 17 yards short of the 1,000-yard mark and scored 10 touchdowns for the seven-win Spartans. He barely gets the nod of Jalen Cropper for first-team honors
WR: Tory Horton, Colorado State — The Rams finished the year with just three wins, but Horton was the best WR in the MWC. The Fresno native and Nevada transfer totaled 1,131 yards with 71 catches and 8 touchdowns.
TE: Caleb Phillips, Hawai'i — The Rainbow Warriors get the first-team nod despite a three-win season. Trey McBride left for the NFL, so this award was up for grabs. Phillips had 31 catches for 317 yards and three scores for a rather disappointing Hawaii offense.
OL: Isaac Cochran, Air Force — Cochran was a huge reason why Roberts and the Falcons were able to run the ball so successfully, and he's one of a handful of Falcons' OL to make the MW All-Conference teams.
OL: Alama Uluave, San Diego State — The Aztec offense had an up-and-down year, but Uluave was one of the best in the Conference easily. The starting center had to juggle between multiple quarterbacks and still didn't skip a beat.
OL: Micah Vanterpool, Hawai'i — The Rainbow Warriors are trending upward, believe it or not, but losing Vanterpool will be a huge loss for Tommy Chang.
OL: Everett Smalley Jr., Air Force — The Falcons have probably the best all-around OL in the MWC, and they get a pair of First-Team nods upfront. That's why it was easy for Roberts to run the ball at will.
OL: John Ojukwu, Boise State — Despite the Broncos' undefeated MWC record, Ojukwu is the lone first-team selection, and he locks in his second such selection in his career.
First-Team Defense
DL: David Perales, Fresno State — We discussed why Perales was the MWC DPOY, and he should hear his name called early in the 2023 NFL Draft.
DL: Viliami Fehoko, San Jose State — You could probably flip a coin to decide between Perales and Fehoko for the MWC DPOY. Fehoko had more tackles but 1.5 sacks less and didn't have an interception. The Spartans finished 43rd in points against (20.27), so the two had very similar numbers, and he locked in his third First-Team selection.
DL: Cade Hall, San Jose State — As good as Fehoko was for the Spartans, Hall was another massive force on the line, and having two First-Team talents drastically helped the Spartans. Hall had 18 tackles with 7.5 sacks and a pick this season.
DL: Dom Peterson, Nevada — The Wolfpack also had zero MWC wins, but Peterson played well enough to earn a First-Team nod and his second such award in his career.
LB: Caden McDonald, San Jose State — McDonald earned his third First-Team award after finishing with 18 tackles and a pair of sacks with a pick. The Aztecs live and die on defense, and McDonald was everywhere for the defensive unit.
LB: Kyle Harmon, San Jose State — The Spartans have a ton of defensive players on the First-Team, and Harmon is the third so far—and he earned his third First-Team nod in his career. Harmon finished the year with 35 tackles and three sacks.
LB: Vince Sanford, Air Force — The Falcon defense was impressive this year, and Sanford wrapped up his second First-Team honor with 22 tackles and 5.5 sacks.
DB: JL Skinner, Boise State — Skinner was the heartbeat for the Bronco defense, finishing with 32 tackles and four interceptions for the undefeated Boise State team.
DB: Patrick McMorris, SDSU — McMorris earned his second First-Team award and finished the year with 27 tackles and a pick for the tough Aztec defense.
DB: Jack Howell, Colorado State — There isn't much to get excited about with the Rams, but Jack Howell was spectacular for Colorado State. Howell had an eye-popping 52 tackles with three interceptions for the Rams to lead in both categories.
DB: Evan Williams, Fresno State — This is tough, but Williams still played a massive role despite missing quite a bit of time. His presence was too great to ignore, and although he didn't record an interception, the opposing offenses stayed as far away as possible for a reason. If Williams were healthy, he had a shot to win the MWC DPOY.
First-Team Special Teams
Punter/Kicker: Jake Browning, SDSU — Browning wins both the kicker and punter awards because he does it all: Field goals, punting, and kickoff duties for SDSU. He finished in the top-10 in multiple punting categories, hit 17 of 21 field goal attempts, and was perfect on all 28 extra points.
Returner: Jordan Byrd, SDSU — Byrd had 487 kickoff return yards with a score and another 115 yards on punt returns, so he wins this award easily.
Second-Team Offense
QB: Chevan Cordiero, San Jose State
RB: George Holani, Boise State
RB: Calvin Tyler, Utah State
WR: Jalen Cropper, Fresno State
WR: Brian Cobbs, Utah State
TE: Mark Redman, SDSU
OL: Ilm Manning, Hawai'i
OL: Alfred Edwards, Utah State
OL: Bula Schmidt, Fresno State
OL: Cade Bennett, SDSU
OL: Chandler Dolphin, Utah State
Second-Team Defense
DL: Jonah Tavai, SDSU
DL: Mohamed Kamara, Colorado State
DL: Scott Matlock, Boise State
DL: Adam Plant, UNLV
LB: Austin Ajiake, UNLV
LB: Easton Gibbs, Wyoming
LB: Michael Showcraft, SDSU
DB: Bentlee Sanders, Nevada
DB: Trey Taylor, Air Force
DB: AJ Haucly, New Mexico
DB: Ike Larsen, Utah State
Second-Team Special Teams
Kicker: John Hyland, Wyoming
Punter: Aaron Rodriguez, New Mexico
Returner: Nikko Remigio, Fresno State
Honorable Mention
QB: Jalen Mayden, SDSU
RB: Titus Swen, Wyoming
WR: Nikko Remigio, Fresno State
WR: Tyrell Shavers, SDSU
TE: Raymond Pauwels, Fresno State
OL: Cade Beresford, Boise State
DL: Daniel Grzesiak, Utah State
LB: DJ Schramm, Boise State
DB: Nehemiah Shelton, San Jose State
Kicker: Daniel Guteierrez, UNLV
KR: Christian Washington, New Mexico
---
—More from Matt Wadleigh—
[ad_2]

Source link