Molecular You launches a new preventive solution shown to improve health outcomes over 100 days
[ad_1]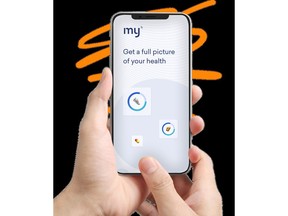 Article content
From a single blood draw, patients receive a comprehensive health assessment and a tailored action plan to help reduce their disease risks
Article content
VANCOUVER, British Columbia, Jan. 10, 2023 (GLOBE NEWSWIRE) — Molecular You announced the launch of its preventive digital health solution, based on a new type of blood test that leverages their expertise in biomarker analysis. Results of a recent pilot involving 122 participants, shows over 50% average risk reduction for areas including cardiovascular disease, diabetes, and cognitive health after following the recommended interventions for 100 days.
Article content
Based on a single blood draw, Molecular You analyzes current health risk in over 26 areas, including cognitive health, diabetes, heart disease and liver health. Based on these results, the platform designs an action plan of precise lifestyle changes that can improve an individual's health outcomes – these changes are measured in a follow-up blood test after four months.
Article content
"Molecular You's metabolomic and proteomic profiling allow you to monitor your health precisely and enable you to practice effective preventive healthcare," said Dr. Pieter Cullis, co-founder of Molecular You. "Unlike genetic testing, we can detect trends towards disease and suggest specific lifestyle changes to delay or prevent the disease from occurring."
The company delivers its solution through a suite of digital tools, including a dashboard for de-identifiable data insights, a consumer-facing mobile app and a video calling feature to offer additional support to users. Blood draws are carried out by a convenient network of partner labs, including Dynacare in Ontario and DynaLIFE in Alberta.
"We believe preventive solutions are the answer to the unsustainable pressure on our healthcare system," says Dr. Rob Fraser, CEO. "Our solution is the first of its kind in Canada and we're looking forward to partnering with insurers, employers and healthcare providers to make Molecular You accessible to as many people as possible."
Article content
The Molecular You app is available for download for iOS and Android devices. The service is currently available in the provinces of Alberta, British Columbia, and Ontario.
About Molecular You
Molecular You allows organizations to assess and guide their people to better health, while providing individuals with unparalleled insight into their chronic disease risks. Based on a new type of blood test we can assess hundreds of biomarkers and translate the results into targeted lifestyle interventions, delivered through our simple digital platform.
For more information, please visit www.molecularyou.com.
Molecular You media contact:
Matthew Bradley
marketing@molecularyou.com
A photo accompanying this announcement is available at https://www.globenewswire.com/NewsRoom/AttachmentNg/29705165-163e-4d5e-9320-3d22c2d77803

[ad_2]

Source link