Nepal Plane Crash Updates: Relatives of UP youths leave for Kathmandu to collect dead bodies
[ad_1]

[ad_1]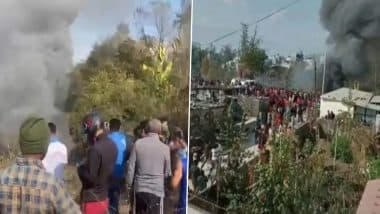 Nepal (Photo Credits: Twitter)
Ghazipur (Uttar Pradesh), January 17: The relatives of the four youths of Ghazipur, who died in the plane crash in Pokhara, Nepal on Sunday, have left for Kathmandu by road along with the village head and two local government officials to receive the bodies. The bodies will reach Kathmandu from Pokhara on Tuesday. After this, the process of ascertaining their identity will begin. If physical identification is not possible, a DNA sample will be taken and matched with family members.
After the dead bodies are identified, they will be sent to India by road. They are expected to reach on Wednesday or Thursday. Meanwhile, shops remained closed in Alawalpur Chatti to mourn the death of the local youth. Local residents and some leaders took out a procession demanding help from the administration to bring back the bodies from Nepal and provide financial and other necessary assistance to the victims' families. They ended their protest after the authorities assured them about the necessary arrangements to bring back the bodies. Also read: Nepal Plane Crash: Family members of 4 people from UP killed in Nepal plane crash left for Kathmandu
Ghazipur District Magistrate Arayaka Akhori said, "We are in touch with the families of Sonu Jaiswal, Anil Rajbhar, Vishal Sharma and Abhishek Kushwaha who died in the plane crash." Sonu's father Rajendra Jaiswal, Anil's father Ramdasarath Rajbhar, Vishal's brother Vishwajit and Abhishek's brother Abhishek have been sent to Kathmandu by road. Vijay Jaiswal, the head of Chak Zainab village, a naib tehsildar and a revenue inspector have also been sent along with him. The official said, they will reach Kathmandu on Tuesday. First of all, they will identify the dead bodies, if this is not possible, then the DNA samples of the dead body and the relatives who reach there will be matched, after which the dead bodies will be handed over.
Divisional Commissioner Kaushal Raj Sharma said that the state government would arrange ambulances to bring the bodies from the Nepal border to the victims' homes. He is likely to be sent to Kathmandu for formalities including postmortem by Tuesday morning. District Magistrate Ghazipur said that to ensure financial assistance to the families from the Chief Minister's Discretionary Fund and Family Benefit Scheme, a status report has been prepared for the families.
nepal plane crash updates relatives of up youths leave for kathmandu to collect dead bodies
[ad_2]


[ad_2]

Source link