Piikani Nation Launches Digital Communications App to Connect with Remote Band Members
[ad_1]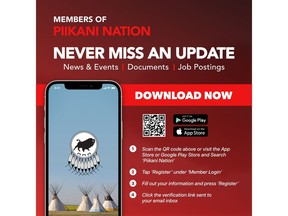 Article content
BROCKET, Alberta, Jan. 16, 2023 (GLOBE NEWSWIRE) — The Piikani Nation is no stranger to taking a modern approach to problems and combining technological advances with generational and cultural knowledge to create solutions. Chief and Council have a history of embracing communication and technology to support their community.
Article content
In order to better communicate with members both on and off-reserve, Piikani Nation has developed a custom mobile application in order to distribute information and send notifications.
Article content
"40% of our members live off-reserve, spread all across Canada," explained Chief Stanley Grier, "We need to be able to connect with them for important events like Per Capita Distributions and ensure everyone is receiving their benefits and entitlements."
Piikani Tsi Nii Ka Sin will use the mobile app to distribute information to band members including news items, event information, resources, documents, and fillable forms. Because the mobile app enables Piikani Tsi Nii Ka Sin to send push notifications at any time of day or night, it can also be used for emergency alerts or time-sensitive updates.
Article content
Communications Manager Mariah Grier elaborated on the need for this type of digital solution stating, "Building success for our community through education and partnerships on a foundation of Piikani values and culture is our vision — keeping our members informed is a vital part of fulfilling those goals."
Download the Piikani Nation's official app for Apple and Android devices today and stay up to date with local news and events!
About the Piikani Nation
Pronounced Bee-Gun-Knee, the Piikani Nation is a member of the Blackfoot Confederacy and a signatory to Treaty 7. Piikani has a strong focus on education and an exceptional post-secondary graduate rate, turning out doctors, lawyers, educators, scientists, researchers, and many other skilled professionals.
Article content
The main Piikani reserve covers a 427km2 area west of Lethbridge in Alberta and is the fourth-largest reserve in Canada by land area.
About Communikit
Communikit is a mobile app platform developed by Aivia Inc. (pronounced AY-vee-yuh) that enables the leadership of Indigenous Nations and organizations to communicate with their members in minutes, no matter where they are. The first and fastest-growing network of its kind, Communikit currently serves 82 Nations and Indigenous organizations across Canada.
A photo accompanying this announcement is available at https://www.globenewswire.com/NewsRoom/AttachmentNg/62c76828-4e50-4f5a-a981-40ec443428df

[ad_2]

Source link