Polkadot Was #1 Crypto By Dev Activity This Month: Santiment
[ad_1]

Data from Santiment shows Polkadot was the number 1 cryptocurrency in the market during the past month based on development activity.
Polkadot Saw The Most Development Activity Over The Last 30 Days
According to data from the on-chain analytics firm Santiment, Polkadot (DOT), Kusama (KSM), and Cardano (ADA) make up the top three in the development activity list. The "development activity" here is a metric that's measured using the work being done by any project's developers on its public GitHub repositories.
This work is gauged in quantities of "events," where an event refers to actions like pushing a commit, creating an issue, forking the repository, creating a pull request, and several others.
Some other versions of this indicator generally only use the total number of commits on the GitHub project as a way of measuring the development activity. However, this method may not be entirely accurate; the reason behind that is whenever someone forks a project (a "fork" basically refers to a copy of the code), all the commits of the original project are also inherited by this fork.
As the developer who created the fork wouldn't have been responsible for the work done by the original team, a pure count of the total commits would produce a false picture of the activity of this new developer.
Since Santiment's metric makes use of events for measuring the activity instead, forks are counted as only 1 new event, and thus the developer's work is more accurately represented.
Now, here is a table that shows the top 10 cryptocurrencies in the sector ranked on the basis of their respective development activities: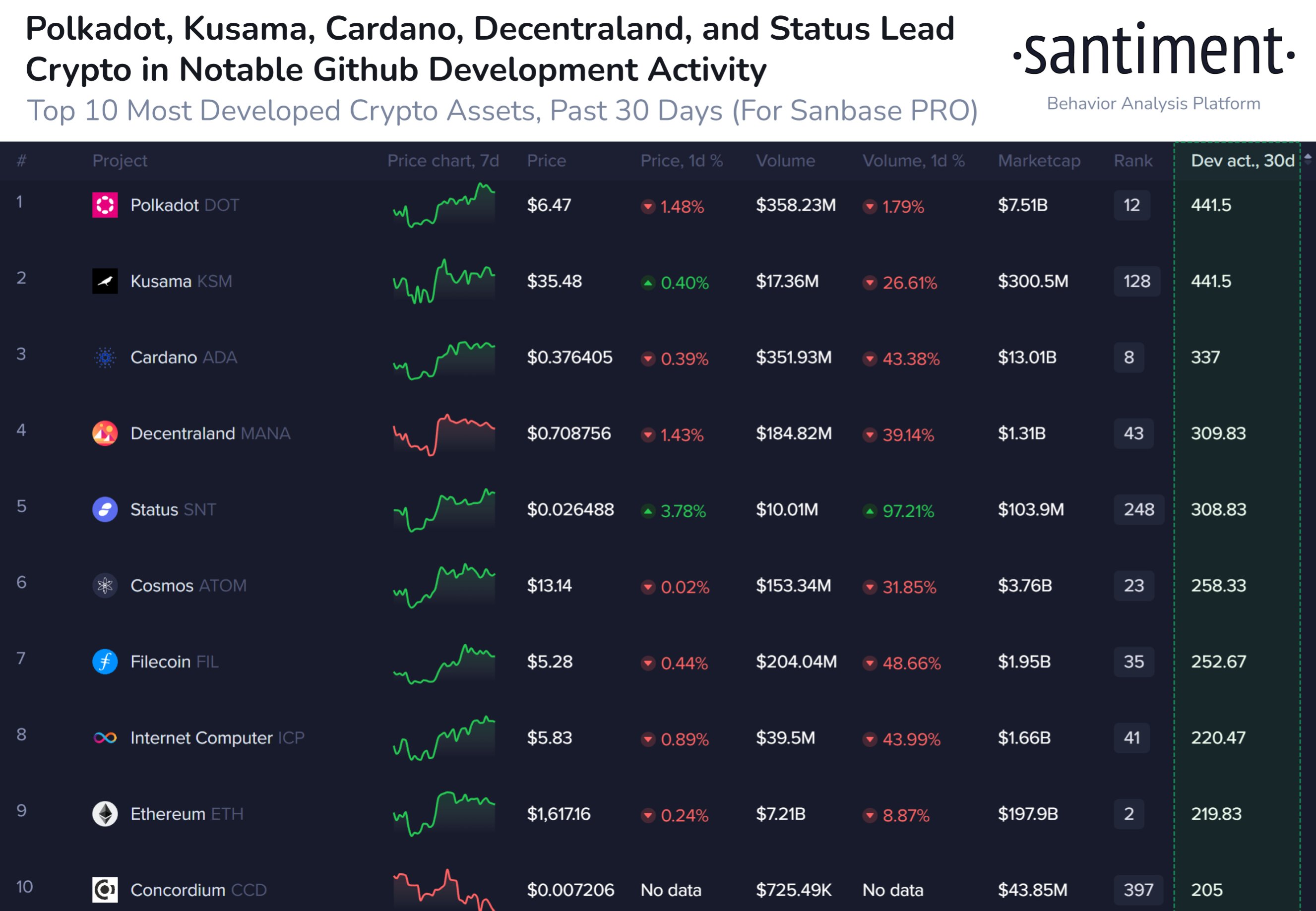 Looks like Ethereum is only 9th on this list | Source: Santiment on Twitter
As the above table displays, Polkadot has been the cryptocurrency that observed the most development activity within the last 30 days. Kusama is also actually tied with DOT for first place, as the indicator's value was 441.5 for both coins during this period.
Cardano ranked top of the list one month ago, but it seems the project has slowed down a little bit this month as it has dropped to third place now.
Previously, Ethereum was sixth on the table, but the second-largest crypto by market cap is now in ninth place, implying that ETH developers have also done lesser work this month on the public repository.
The significance of the development activity is that it can provide a clue about whether there is strong commitment behind a project or not.
Cryptocurrency projects seeing high activity can mean that they are getting constantly updated and receiving new futures, which can attract users to the network and thus help build a groundwork for the long-term future. Currently, it would appear that Polkadot is the project receiving the most attention from its developers.
DOT Price
At the time of writing, Polkadot is trading around $6.18, up 4% in the last week.
The value of the asset seems to have declined over the past day | Source: DOTUSD on TradingView
Featured image from Traxer on Unsplash.com, chart from TradingView.com


[ad_2]

Source link