Rogers court ruling starts clock ticking toward Jan. 31 deadline
[ad_1]

Release of the full text of decision a key step that allows competition commissioner to begin an appeal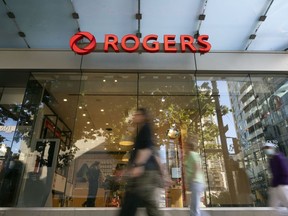 Article content
Canada's merger court released its full decision allowing Rogers Communications Inc.'s takeover of a rival, starting the clock on a critical four-week period to close the deal.
Article content
Rogers' acquisition of Shaw Communications Inc., and a related deal that will see Quebecor Inc. take ownership of most of Shaw's wireless assets, "are not likely to result in materially higher prices" for consumers in the provinces of Alberta and British Columbia, the country's Competition Tribunal said in an 88-page decision released Monday.
Article content
It dismissed an application by Canada's antitrust czar, Matthew Boswell, to block the $20-billion (US$14.7-billion) transaction, which is one of the largest corporate mergers in Canada's history.
The tribunal's decision was already known because it issued a summary of its findings on Dec. 29, sending Shaw and Rogers shares higher Friday. But the release of the full text is a key step that allows Boswell to begin an appeal — which he has already said he will do.
Article content
The deadline for closing the deals is Jan. 31, and it can't be extended past that date without Quebecor's permission. Rogers and Shaw announced their combination almost two years ago, on March 15, 2021.
'Proven record'
Quebecor "has a proven record of aggressive pricing and innovation in Quebec and parts of Eastern Ontario. Its expansion into Alberta, British Columbia and the rest of Ontario will be facilitated by the very favourable arrangements that it has negotiated" as part of the deal to buy Shaw's wireless business, the court said in its reasons.
Boswell's only chance of stopping Rogers from buying Shaw is to persuade the Federal Court of Appeal to agree to hear his arguments.
One potential ground for appeal is the fact the Competition Tribunal chose to look at the two deals together. The proposed sale of Shaw's wireless assets to Quebecor wasn't arranged until after Boswell filed suit against Rogers and Shaw.
Article content
Lawyers for Boswell's side took the stance that, legally, the tribunal should have looked at the Rogers-Shaw transaction in its original form. But the tribunal dismissed that idea as "divorced from reality."
University of Ottawa professor Jennifer Quaid, an expert in competition law, said on Twitter that she was surprised by how "short and legally thin" the tribunal's reasons were.
"Do we want to create a precedent now where, essentially, parties can, after the original filing has gone, come in with a new deal — and the tribunal just takes on faith that well, since it comes from the parties, it must be a good deal?" Quaid said in a phone interview.
[ad_2]

Source link