Scotiabank asks staff to work in the office more this fall
Joins Royal Bank of Canada in aiming to reduce remote work for staff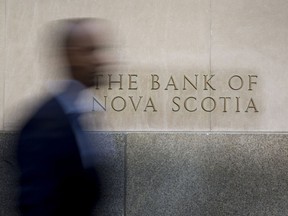 Article content
Bank of Nova Scotia expects more of its employees to return to the office in the months ahead, making it Canada's second major lender to publicly say it's aiming to reduce remote work for its staff.
Article content
"Scotiabank will be increasing its focus as of September on coming together for certain types of work where there are clear benefits to being there in-person," the bank said in an emailed statement. "This includes collaborating with colleagues, meeting with clients, or work that must meet specific regulatory requirements."
Article content
The bank said it will continue to provide "choice and flexibility" for work that can be done remotely and that "the number and type of in-person activities employees will participate in will depend on the needs of their business line, functional area, and role."
Royal Bank of Canada Chief Executive Officer Dave McKay last month asked employees to come to the office more often, saying that working remotely "can't replicate the energy, spontaneity, big ideas, true sense of belonging and fun" of being together in person.
A similar tone is being struck by United States financial companies, including Jefferies Financial Group, which is asking staff to come back more often, and Goldman Sachs Group Inc. and Morgan Stanley, which have eased COVID rules to get more workers back into the office.