SuperWest NCAA Football Annual Touchdown Leaders
[ad_1]

Posted on August 25, 2022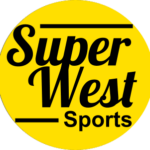 By SuperWest Sports Staff
Several SuperWest players have won individual NCAA touchdown championships and we've compiled lists of them over the last 65 years, in five categories: Rushing, Passing, Receiving, Total Scored and Total Responsible For.
Some highlights:
• The last rushing leader was BYU's Tyler Allgeier with 23 touchdowns in 2021.
• Boise State's Bart Hendricks was the most recent passing TD leader with 35 in 2000.
• The most recent receiving leader was USC's Dwayne Jarrett with 16 TDs in 2005.
• Oregon's Marcus Mariota was the last touchdowns responsible for leader with 58 in 2014.
• The most recent total TD scored leader was Boise State's Jay Ajayi with 32 in 2014.
Tables with annual winners in all five lists appear below.
NCAA Rushing TD Leaders by Year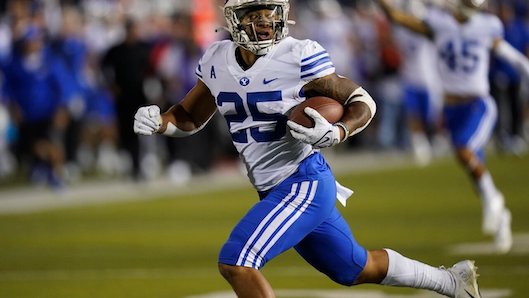 | Year | Player | TDs | Program |
| --- | --- | --- | --- |
| 2021 | Tyler Allgeier | 23 | BYU |
| 2009 | Toby Gerhart | 28 | Stanford |
| 2006 | Ian Johnson | 25 | Boise St |
| 2005 | Lendale White | 24 | USC |
| 2001 | Luke Staley | 24 | BYU |
| 1996 | Corey Dillon | 22 | Washington |
| 1994 | Rashaan Salaam | 24 | Colorado |
| 1991 | Tommy Vardell | 22 | Stanford |
| 1987 | Paul Hewitt | 18 | SDSU |
| 1981 | Marcus Allen | 22 | USC |
| 1968 | O.J. Simpson | 23 | USC |
NCAA Passing TD Leaders by Year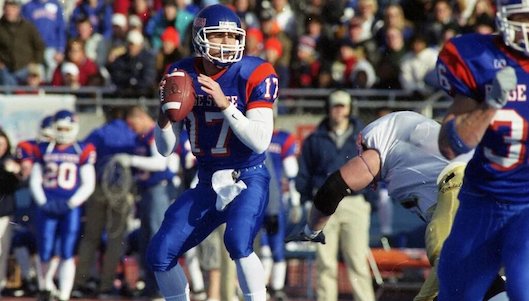 | Year | Player | TDs | Program |
| --- | --- | --- | --- |
| 2000 | Bart Hendricks | 35 | Boise St   |
| 1994 | John Walsh | 29 | BYU |
| 1988 | Scott Mitchell | 29 | Utah |
| 1987 | Todd Santos | 26 | SDSU |
| 1985 | Robbie Bosco | 30 | BYU |
| 1984 | Robbie Bosco | 33 | BYU |
| 1983 | Steve Young | 33 | BYU |
| 1982 | John Elway | 24 | Stanford |
| 1980 | Jim McMahon | 47 | BYU |
| 1979 | Marc Wilson | 29 | BYU |
| 1978 | Steve Dils | 22 | Stanford |
| 1976 | Gifford Nielsen | 30 | BYU |
| 1974 | Gary Sheide | 23 | BYU |
| 1973 | Danny White | 23 | ASU |
| 1970 | Brian Sipe | 23 | SDSU |
| 1969 | Dennis Shaw | 39 | SDSU |
| 1963 | Bob Berry | 16 | Oregon |
| 1963 | Gordon Queen | 16 | Oregon St |
| 1962 | Terry Baker | 15 | Oregon St |
| 1957 | John Hangartner | 14 | ASU |
NCAA Receiving TD Leaders by Year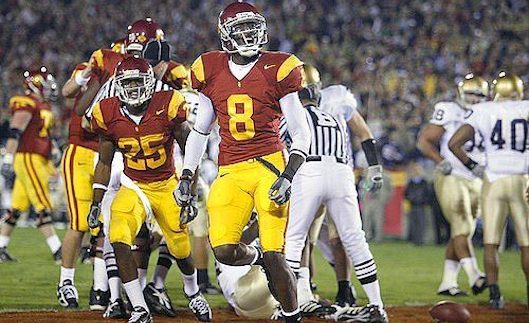 | Year | Player | TDs | Program |
| --- | --- | --- | --- |
| 2005 | Dwayne Jarrett | 16 | USC |
| 1993 | J.J. Stokes | 17 | UCLA |
| 1992 | Sean Dawkins | 14 | Cal |
| 1985 | Mark Bellini | 14 | BYU |
| 1984 | Doug Allen | 14 | ASU |
| 1983 | Kirk Pendleton | 11 | BYU |
| 1980 | Clay Brown | 15 | BYU |
| 1977 | James Lofton | 12 | Stanford |
| 1977 | Ronnie Smith | 12 | SDSU |
| 1976 | Keith Hartwig | 10 | Arizona |
| 1973 | Keith Denson | 11 | SDSU |
| 1972 | Steve Sweeney | 13 | Cal |
| 1969 | Tom Reynolds | 18 | SDSU |
| 1963 | Vern Burke | 9 | Oregon St |
| 1962 | Hal Bedsole | 11 | USC |
| 1960 | Hugh Campbell | 10 | WSU |
| 1957 | Jack Fanning | 9 | WSU |
NCAA Total TD Scored Leaders by Year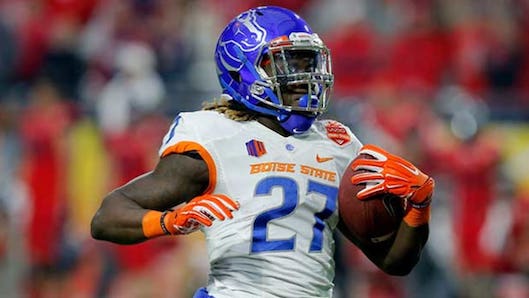 | Year | Player | TDs | Program |
| --- | --- | --- | --- |
| 2014 | Jay Ajayi | 32 | Boise St |
| 2010 | LaMichael James | 24 | Oregon |
| 2009 | Toby Gerhart | 29 | Stanford |
| 2006 | Ian Johnson | 25 | Boise St |
| 2005 | Lendale White | 26 | USC |
| 2003 | Steven Jackson | 22 | Oregon St |
| 2002 | Brock Forsey | 32 | Boise St |
| 2001 | Luke Staley | 28 | BYU |
| 1997 | Skip Hicks | 26 | UCLA |
| 1996 | Corey Dillon | 23 | Washington |
| 1994 | Rashaan Salaam | 24 | Colorado |
| 1993 | Marshall Faulk | 24 | SDSU |
| 1991 | Marshall Faulk | 23 | SDSU |
| 1987 | Paul Hewitt | 24 | SDSU |
| 1981 | Marcus Allen | 23 | USC |
| 1968 | O.J. Simpson | 23 | USC |
| 1957 | Leon Burton | 16 | ASU |
NCAA Passing TDs Responsible For Leaders by Year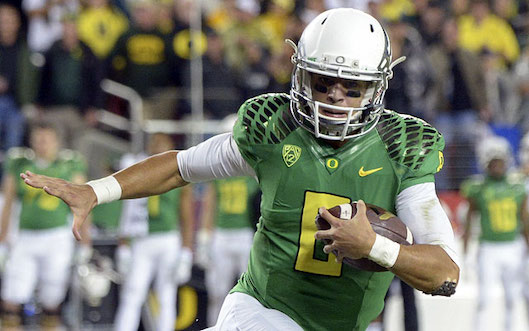 | Year | Player | TDS | Program |
| --- | --- | --- | --- |
| 2014 | Marcus Mariota | 58 | Oregon |
| 2000 | Bart Hendricks | 41 | Boise S |
| 1991 | Ty Detmer | 39 | BYU |
| 1985 | Robbie Bosco | 32 | BYU |
| 1984 | Robbie Bosco | 35 | BYU |
| 1983 | Steve Young | 41 | BYU |
| 1980 | Jim McMahon | 53 | BYU |
| 1979 | Marc Wilson | 33 | BYU |
| 1976 | Gifford Nielsen | 31 | BYU |
| 1973 | Danny White | 28 | ASU |
| 1972 | Danny White | 28 | ASU |
| 1969 | Dennis Shaw | 45 | SDSU |
| 1966 | Virgil Carter | 30 | BYU |
| 1962 | Terry Baker | 24 | Oregon St |
---
—More from Staff—
[ad_2]

Source link