Tech used on Mars rover could help slash emissions in the oilsands
[ad_1]

Calgary-based company's tech that NASA uses to scan for life on Mars could reduce oilsands' use of steam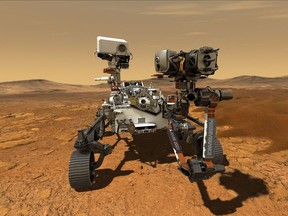 Article content
Technology that NASA uses to scan for life on Mars might next be used to help oilsands companies reduce their outsized greenhouse gas emissions.
Article content
Calgary-based Impossible Sensing Energy Inc., which has been developing the space tech for use in the oilpatch, got a boost this week by winning a global challenge initiated by Canada's biggest oilsands companies to come up with a way to help them slash their use of steam. 
Article content
That's key to reducing emissions because processing and extracting bitumen in-situ from the oilsands currently requires large amounts of steam, making it one of the most carbon-intensive sources of oil in the world. The industry has long sought ways to replace steam with solvents, as studies suggest doing so could reduce emissions by 90 per cent.
However, solvents are expensive. Impossible Sensing thinks it can lower the cost of using them by making the process more efficient. By modifying optical sensing technology first developed for the Mars Perseverance rover, the company says it can create a measurement device capable of identifying precise amounts of solvents recovered in oilsands production in real time.
Article content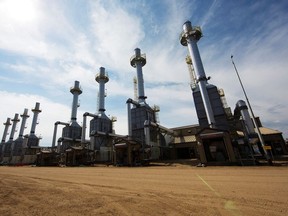 That could be a game changer. Real-time data on the solvents being recovered naturally from oilsands production — including valuable products such as butane and propane — are key to maximizing the recycling of solvents for use in extraction and making the switch to solvents more economical for producers.
"The challenge was to look for solutions outside of the oilfield," said Ariel Torre, co-founder and chief executive of Impossible Sensing Energy, whose U.S. affiliate helped build a tool called SHERLOC that NASA installed on the Perseverance Rover.
"It's two dots that no one else connected before: the fact that oil is a byproduct of life and we have all these scientists that are looking for indications of potential past life in other planets," Torre added. SHERLOC "is looking for traces of carbon molecules related to life — which happen to be the same solvents that (oilsands companies) want to measure."
Article content
Impossible Sensing Energy's optical sensing technology for the oilpatch, called FLOW, won the top prize and $45,000 from among a group of more than 50 global competitors in a challenge organized by Plug and Play Alberta to spur development of a device that can continuously identify precise amounts of solvents from oilsands production. Pathways Alliance, a coalition of the six biggest oilsands producers, backed the competition.
Measuring devices exist that do what Impossible Sensing proposes to do, but using different technologies at a steeper price. Few conventional producers use them, opting instead to periodically test each well with more basic equipment, said Torre, adding that Impossible's technology can provide more data than simply that which is required to make efficient use of solvents.
Article content
Torre said Impossible Sensing successfully tested its meter at a Saskatchewan oil field earlier this winter and has six more months of testing ahead before commercial deployment can begin.
"The tremendous response to this challenge continues to demonstrate the great level of partnership the oilsands industry has with leading innovators from around the world," Wes Jickling, vice-president of technology development at Pathways, said in a statement.
"We know there is no single path to net zero and no one company or one sector can get there alone. It will require multiple pathways and collaboration with some of the world's brightest minds. It's great to see some of the brightest are right here in our own backyard."
• Email: mpotkins@postmedia.com | Twitter: mpotkins


[ad_2]

Source link