US Tightens Sanctions on Tehran's Energy Exports: Iran Snapshot
Here is a snapshot of what's happening with Iran, its nuclear talks and energy markets.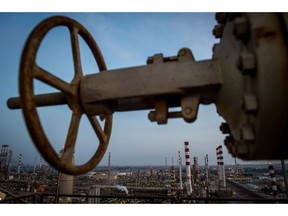 Article content
(Bloomberg) — Sign up for our Middle East newsletter and follow us @middleeast for news on the region.
Article content
Here is a snapshot of what's happening with Iran, its nuclear talks and energy markets.
Latest developments
The US added new sanctions on Iran's oil and petrochemicals sectors on Monday, targeting four companies associated with the shipping of Iranian crude to East Asia. 
Within hours of the announcement, Iran said it had started injecting gas into hundreds of advanced centrifuges, a measure that it said the International Atomic Energy Agency, the United Nations nuclear watchdog, was fully aware of. It wasn't immediately clear whether the step was a response to the latest US penalties. 
The two countries have been deadlocked for months over how to restore a landmark nuclear accord that the US quit in 2018 before heavily sanctioning Iran, including its critical energy exports. Repeated rounds of indirect talks have failed to reach a breakthrough but there were signs over the weekend that the latest European Union push to save the accord has injected some momentum to the stalled diplomacy. 
Article content
On Sunday, a senior lawmaker in Iran said negotiations to revive the accord will probably resume in Vienna "in the coming days," citing a briefing from Tehran's top nuclear negotiator. US Secretary of State Antony Blinken said on Monday that he backed the EU's latest proposal to salvage the talks.
Latest coverage
US Sanctions Companies It Says Help to Transport Iranian Oil
Iran Lawmaker Says Nuclear Talks Likely to Resume in Days
Iran Starts Gas Injection Into Hundreds of Centrifuges: State TV
Don't Expect OPEC+ to Pump Much More Oil Following Biden Visit
Oil
Oil steadied after closing at the lowest level in more than five months as traders counted down to an OPEC+ meeting on supply and tracked signs that physical markets have loosened in recent weeks.
West Texas Intermediate traded near $94 a barrel after losing almost 5% on Monday on signs a global slowdown will hurt energy demand. The Organization of the Petroleum Exporting Countries and allies are set to gather virtually on Wednesday to decide on output policy for September. As that meeting nears, the market's backwardation, a bullish pattern, has narrowed.